Bookstore taps art potential of Gulangyu Island heritage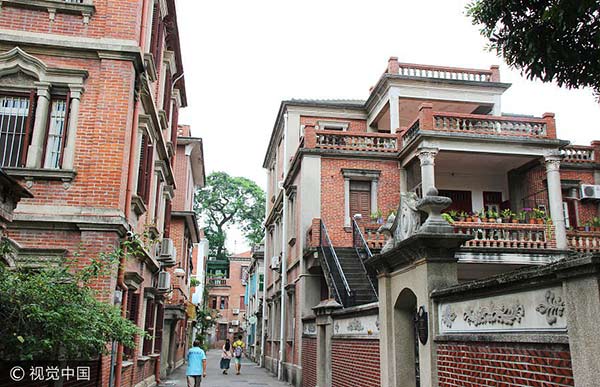 The photo taken on Sept 25, 2015 shows the historical buildings and roads in Gulangyu. [Photo/VCG]
Su Xiaodong owns a bookstore on Gulangyu Island and he has called it "wormhole".
"A wormhole connects different time and space," said Su, from the city of Xiamen, East China's Fujian province. "That's exactly what I want to do, connect the island with its beautiful past."
Su, 47, traveled to many countries before he decided to set up the bookstore last summer. "The history and culture here is very distinct," he said.
Gulangyu, off the coast of Xiamen, is famous for its varied architecture and multicultural history and was included on the UNESCO World Heritage list Saturday.
The island is dotted with east-meets-west style residences built by overseas Chinese elites who returned to the island in the early 20th century.
Su rents Haitian Pavilion, a historic building, as his bookstore and renovated the interior to look like it did in the early 20th century.
"It was the best time on Gulangyu, quiet and with people from different cultures living in an international community peacefully." Su said.
Today, Gulangyu receives more than 10 million visitors per year, and many boutique shops, restaurants and hotels have sprung up in recent years.
Su said he wants the bookstore to be a space where people can escape commercialism, and explore the island's culture in a historic setting.
His store has collected more than 3,000 books about Gulangyu, and he has an ongoing project searching for more worldwide.
"Preserving cultural heritage is not only about protecting the buildings," Su said. "It's also about the memories of these buildings and recreating the experience for modern people, so they might better understand a certain place or time."
Su believes art is one way for people to go beyond the here and now and access the "wormhole" that brings them to the past or future.
In November, his bookstore exhibited works of young artists from 16 countries, who had stayed in Gulangyu for two-months creating art.
Inspired by the exhibition, Su tapped into the island's history as an international settlement by inviting artists, from the 13 countries that had set up consulates on Gulangyu in the middle 19th century, to stay and create art on the island.
"Their stories and work salute history and can bring fresh blood to the culture on Gulangyu," Su said.