Sisyphe bookstore chain opens first store in Beijing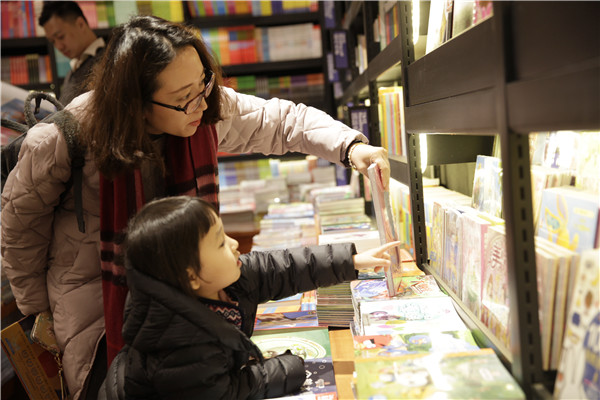 A mother and her daughter visit the new bookstore Sisyphe's section for children's books at the Solana shopping mall in Beijing. [Photo provided to China Daily]
More Chinese may be buying books online, but brick-and-mortar bookstores are still thriving. Sisyphe, one of the biggest private bookstore chains in China, opened its first branch in Beijing on Jan 13.
The bookstore, the 67th branch for Sisyphe, is located in the Solana shopping mall near Chaoyang Park.
With an area of around 500 square meters, the bookstore offers more than 20,000 titles, including a section for books in English and a special section for children's books.
"I don't really care about the statistics of the industry," says Jin Weizhu, owner of the bookstore chain, commenting on a 2016 report on the retail book market, which shows, for the first time, the country's online book sales of 36.5 billion yuan ($5.4 billion) surpassed offline sales-33.6 billion yuan.
Openbook, a Beijing-based publishing market monitor, released the report last week.
"We plan to open at least four branches in Beijing this year," says Jin.
Sisyphe started with a bookstore of around 20 square meters in Zunyi, in the southwestern province of Guizhou, in 1993.
In the beginning there were financial difficulties as websites such as Dangdang and Amazon started selling books at a discount online in early 2000.
Then, Jin took over the bookstore in 2007 and began to open branches in shopping malls. More than half of the branches are now in malls around the country, as he believes that shopping complexes are an important element of urban life, and that bookstores can make ends meet with the traffic attracted to the mall.
Meanwhile, like most private bookstore chains, Sisyphe also sells stationery and souvenirs to diversify its offerings.
The bookstore also has a cafe, and the sales of desserts and coffee comprise around 20 percent of the total revenue of a Sisyphe bookstore.
Besides Sisyphe, other bookstore chains-One-Way Space, Belencre, Librairie Avant-Garde and Fang Suo Commune-have also been expanding around the country in recent years.