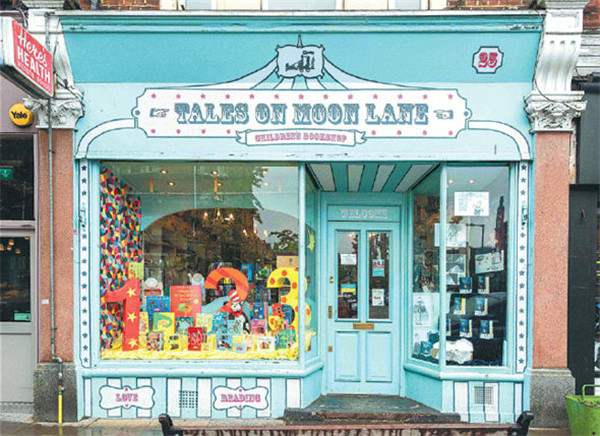 The exterior of Tales on Moon Lane Children's Bookshop in London. [Photo provided to China Daily]
Bookshop owner endeavors to broaden children's horizons.
Tamara Macfarlane, a teacher, founded Tales on Moon Lane Children's Bookshop in Half Moon Lane, London, in 2003.
When she chose the name she connected bookstore with moon because both inspire dreams and free imagination, she says. Instead of encouraging children to grow to love books, most British teachers force them to read, Macfarlane says. Reading should be a love that begins when one is young and continue for a lifetime, she says.
Although about 14 percent of Britain's population is black or Asian British, fewer than 2 percent of those who work for the country's publishing industry are black of Asian British, she says.
London's population makes the city vibrant and diverse, says Macfarlane, who then cities the Nigerian writer Chimamanda Ngozi Adichie: "The single story creates stereotypes, and the problem with stereotypes is not that they are untrue but that they are incomplete. They make one story become the only story."
Compared with adults' books, the ideology in the world of children's books is very narrow because of limited sets of values and cultural references, Macfarlane says, and that is not conducive to the growth and empathy that children need to become decent citizens.
Macfarlane says that she and those who run Moon Lane Children's Bookshop with her feel the lack of diversity in London's publishing industry and a singular dominant voice lead to limited understanding, empathy, integration and social mobility.
"We believe that reading develops understanding and empathy, but reading about different lives, values and views of points. So in London, constantly the publishing world said reading develops empathy, but if you read only your own thoughts and ideas, it actually develops narcissism, not empathy.
"In order to develop empathy, we need to read about (the) other."
For 14 years her shop has tried to build a bridge between publishers and readers, she says. By learning about different people's needs according to their income, family background and genders, the bookstore tries to offer products and services - books and events - that meet readers' diverse needs and provide opportunities for publishers to learn about readers.
For instance, as a woman who runs a bookshop Macfarlane tries to give children different perspectives about genders.
"When I grew up I read much stronger female protagonists than we have now," she says.
But now "we really lack female super heroes".
Now she and her colleagues are working on introducing a female super hero, which is also a response to a customer demand for female super heroes who are adventurous and successful.
yangyangs@chinadaily.com.cn