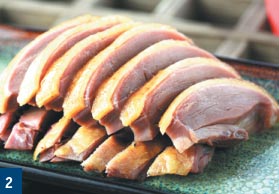 Nanjing Impressions Salt-water Duck: This dish is so famous that it has become associated with the city itself. [Photo provided to China Daily]
Nanjing Impressions tested other locations within China, such as Beijing, but the first overseas Nanjing Impressions was opened last year in Singapore, a city famous for its near-fanatical gourmets. It is as good a test spot as any other. If Nanjing Impressions holds its ground there, it can make it anywhere. That was the reasoning,
The logic is not far from the truth, and Singapore is indeed taking to Nanjing street food with great enthusiasm. We hear that the big bosses are already eyeing San Francisco and London next.
It is a real pleasure sitting inside the restaurant, and for an hour or so, we might as well be in Nanjing, if you ignore the bustling mall traffic just outside the main door.
The chefs have kept the food as authentic as possible and a few missing ingredients meant the kitchen team had to think on their feet, and quickly.
For example, Singapore bans the sale of duck blood, and no ducks are allowed to be imported from China, for quarantine reasons. So the saltwater duck is made from birds raised locally.
Still, this is no ordinary bird. It swims in a brine that is legendary. Through war, pestilence and revolution, the Nanjing chefs have guarded their brine with their lives, sometimes literally.
Some of these have been in the family or restaurant for decades, and since each duck is cooked and marinated in the brine, it leaves behind its soul and sweetness in the pot.
The ducks, unlike their roasted Beijing relatives, are lean, dark and tightly textured. Their skins are slightly crisp but tender, not tough.
The meat is clearly layered, and the teeth pick it apart easily. At first bite, the savory intensity bursts through and you get a mouthful of pure flavor.
Every Nanjing chef has his own secret blend of dry rub that is first applied to the raw bird, which is then marinated overnight. Then there is the seasoning to the brine, a white saline solution that is very different from the usual soy-sauce-based brewing liquid in other parts of China.
The cooking process, too, takes skill and precision and demands a masterly control of heat.
You don't want a duck that is cooked hard and fibrous, and you cannot serve up a half-raw bird. So there is a delicate balance to navigate.
Then, there is the secret to the full flavor, a long, slow simmering and macerating that may literally take days. Nanjing chefs probably never knew what osmosis is, but they use it to perfection every time.