Cantonese rebound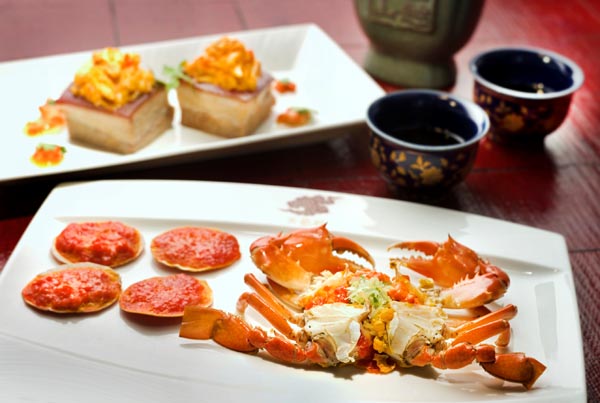 Golden crab at Tin Lung Heen restaurant in Hong Kong. [Photo provided to China Daily]
A Hong Kong native who grew up in Canada rediscovers her birth culture through food, Mike Peters reports.
Adele Wong was born in Hong Kong, but her family emigrated to Toronto in the early 1990s.
"My favorite foods changed from deep-fried fish balls from a hawker food cart," she says, "to baked potatoes with butter and chives".
Things could have stayed that way, but a job offer brought Wong back to the island nine years ago. She suddenly found herself on a voyage of rediscovery-"a huge dose of reverse culture shock"-absorbing her original heritage by exploring Hong Kong's rich culinary scene.
The result is Hong Kong Food & Culture: From Dim Sum to Dried Abalone, which won an award last month at the 2017 Gourmand Awards competition for cookbooks in Yantai. But Wong's 345-page volume is much more than a recipe collection.
The former dining columnist at HK Magazine, Wong started her own publishing company and lifestyle website (theloophk.com) several years ago. She "hates being pigeon-holed as a food writer," she says, and the book is a triumphant effort to break such boundaries.
When she writes about soy sauce, for example, she explains how it's made from fermented soybeans, wheat flour, water and salt; how it's used in the kitchen; the differences between light and dark versions. But then she grabs the readers hand for a joyous jaunt to the Kowloon Soy factory in Yuen Long, where the company still dries its fermented soybean culture the traditional way-by loading everything into massive clay vats and letting the sun do its job.