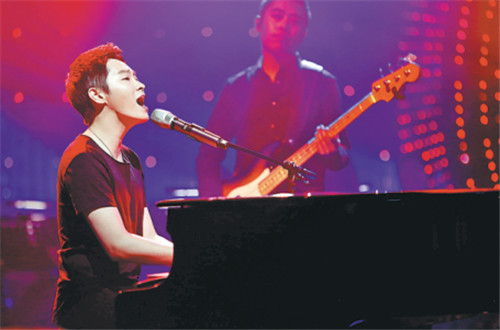 Liang Bo is known by the public because of the reality show The Voice of China five years ago. Now he returned to the screen by participating in another reality TV show Singer.[Photo provided to China Daily]
Liang Bo won the first season of The Voice of China in July 2012. Since then, he's been calmly singing his own songs, taking time to explore the US, and discovering things like African-American soul music in his own quiet way.
For young Chinese singer-songwriters, one of the most powerful promotion tools is reality television. And 26-year-old singer-songwriter Liang Bo is one of the successful examples.
He won the first season of The Voice of China, a popular reality TV show broadcast on Zhejiang Satellite TV, which premiered in July 2012. Then, he released two full-length albums, which featured the young musician's original pop-rock material.
Recently, he returned to the screen by participating in the reality TV show, Singer, in which professional singers compete and audiences vote.
The other competitors in the show were Hong Kong singer Sandy Lam Yik-lin and Taiwan singer-songwriter Jam Hsiao.
"People got to know me because of the television show five years ago. However, in that show, I had to perform other singers' songs," says Liang, who started songwriting in high school.
"With this TV show, Singer, I am allowed to perform my own songs, which is very important to me. I want people to hear my music, and I want to tell my stories with music."
One of the songs he performed is Sunset Boulevard, which is in Liang's second album, Mi Cang (2015). Two new songs, Boy and Soul Singer, were premiered in the show.
The three songs were written when Liang spent over a year living in the United States after he won at The Voice of China in 2012.
Just when people expected the young singer-songwriter's career to take off, Liang slowed down. He visited San Francisco and Los Angeles, where he performed on the streets, in the bars and met people.