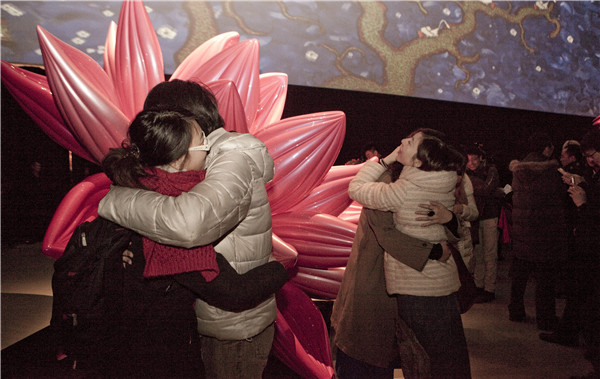 A project organized by Today Art Museum that required the participating pairs to embrace each other for 13 minutes 14 seconds. [Photo provided to China Daily]
Art museums and galleries in China, once regarded by many as meeting places for the elite, are now attracting the masses
Gao Peng, a curator, says the most difficult yet moving embrace he has ever seen took place between a man and his daughter in the gallery of Today Art Museum in Beijing, where Gao has been director for the past four years.
"Twice the man tried to hold his daughter in his embrace and twice the teenage girl broke away, feeling uncomfortable, I guess. Then, the third and final time, they clung to one another for 13 minutes and 14 seconds. After they parted, the father said to his daughter: 'The day will soon come when you'll grow up and get married. ... But you know what? Dad really wants to hold you for as long as I can, in the same way as I held you when you were an infant.
"On hearing that the girl allowed tears to stream down her face," Gao says.
The father and daughter were among about 200 pairs who turned up at Today Art Museum three years ago to take part in an art program that required each pair taking part to give each other a long embrace, an embrace that had to last for 13 minutes and 14 seconds.
"In Chinese, the number sequence 1, 3, 1, 4 enunciated as single digits sounds like 'a lifetime'," Gao says. "Of all things, I'm sure that the memory of that experience will last for a lifetime for all who took part."
Yet the purpose of this program was more about bringing people to see someone they thought they knew, than about simply expressing love, he says.