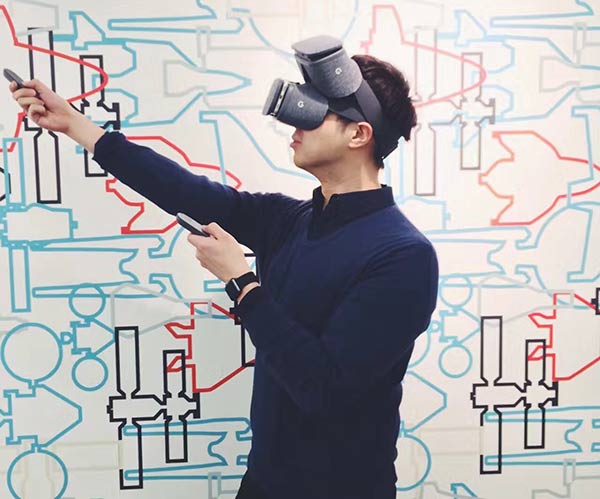 A staff member from Phantom Whale tries on Google Daydream glasses. [Photo/China Daily]
When Zhong Qiu first tried a virtual reality game in early 2016, she was impressed and inspired by the technology: "It can solve a lot of problems if it could be applied to a simulation of laboratory class!"
At that time, Zhong was a chemistry teacher at Beijing Royal School. During her five-year teaching career, she has found it difficult to teach the preview class before turning students loose into the laboratory.
"It's hard to make students remember all the details of the experiment if they receive the information passively." says Zhong. "But I felt that VR can let students explore the subject proactively on their own."
Now Zhong works for Phantom Whale, a startup company focusing on VR education.
"After my VR experience, I learned by chance that the company was hiring, and decided to give it a try," says Zhong. She designs the content for a chemistry class that will be taught in the VR education application that the company is developing.
In the virtual laboratory environment created in the app, students could preview a particular experiment, learning all the proper procedures before doing them in a real lab. They could also conduct dangerous experiments - ones that are often taught but never practiced in traditional teaching.
"We are planning to develop VR courses for all subjects in K-12 (from kindergarten to 12th grade) education," says Cai Nizhe, who co-founded the company in early 2016 with three friends.
The company now has a team of around 30 employees, and plans to hire more young teachers like Zhong, who have not only a strong background in teaching but also a sense of the new technology.