Experts share experience and insight in smart tourism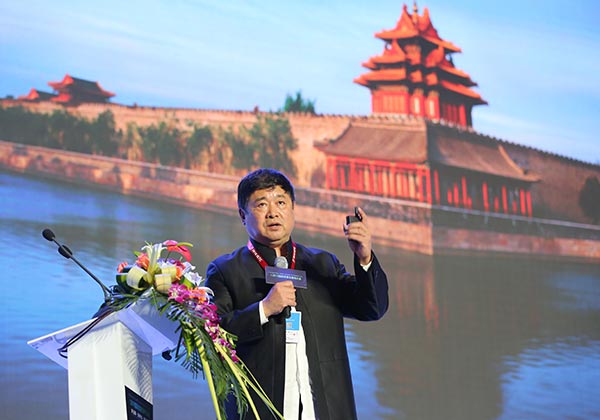 Shan Jixiang, director of the Palace Museum, delivered a speech in the conference. [Photo by Wang Chu/China Daily]
Dozens of tourism bureau heads and experts from home and abroad recently gathered in Hangzhou, Zhejiang province for the 2016 International Smart Tourism Conference.
Keynote speakers shared their views about smart tourism and how to use it to promote destinations.
Shan Jixiang, director of the Palace Museum, delivered a speech about how to enhance tourists' experience and tackle huge amount of visitors via smart tourism.
The museum opens 32 ticket-selling counters, and tourists can buy tickets online in advance. They can know about information of antique and traditional Chinese culture via the museum's mobile apps.
In the digital exhibition hall, when one touches the screen, a projection will showcase one of the 1,500 elegant carpets or photos of different buildings. They can also watch how they look like when they're dressed in the emperor's clothes in front of a screen.
Santi Chudintra, deputy governor for Policy and Planning of Tourism Authority of Thailand, said they can know about the demands of tourists via big data and then know how to satisfy them.
They promote Thailand as a destination on Chinese social media platforms such as micro blog and their official website. This year, they cooperated with WeChat to launch a survey about Chinese travelers' favorites about Thailand.
Bao Haiyong, director of Smart Tourism Research Center, Zhejiang University, shared how to combine virtual and augmented reality with tourism.
"We can make tourist distributing centers into places to experience VR/AR. Travelers can 'visit' destinations that are inconvenient to go, and hotels, and also have some culture experience," he said.
He believed such impressive experience will help tourists to know more about the history and culture of the destination.
According to Xu Ting, chairman of Woniu (Beijing) Tourist Attraction Management, it's essential to deal with traffic flow in a scenic spot via smart tourism, such as showing real-time traffic situation on highways through screens. Also, big data will help scenic areas to improve their services.
Related:
VR's significance in media set to grow, say experts