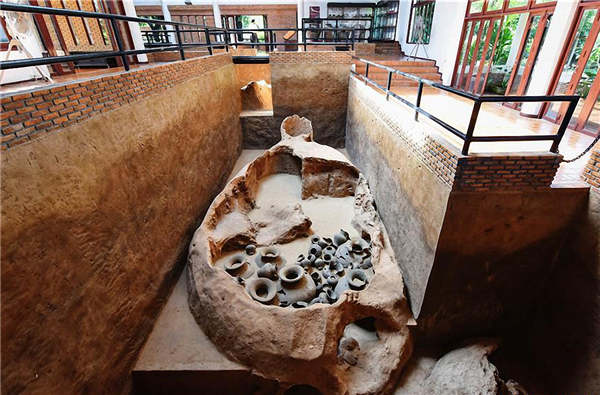 The remains of an ancient Sangkhalok ceramic kiln displayed in the Si Sathanalai Historical Park, northern Thailand's Sukhothai province.
However, the following Ming Dynasty (1368-1644) imposed a sea ban policy that restricted private maritime trading and coastal settlement, which led to a huge decrease of Chinese ceramics in global markets and thus encouraged Thai craftsmen to copy the technique of the Chinese.
It was a golden age for Sangkhalok ceramics. However, when the Ming court decided to end the sea ban policy in 1567, and also due to some other reasons, the manufacturing of Sangkhalok ceramics was stopped and the artifacts lost, until people found them in recent decades.
Many experts said the Sukhothai Kingdom sent men to China and brought Chinese craftsmen back with them to teach the technique of making ceramics, so there are patters on some Sangkhalok ceramics that are very similar to Chinese traditional patterns.
Pariwat argued that there is no record of any Chinese craftsmen setting up a kiln in Thai history, and although both Sangkhalok ceramics and Chinese blue and white porcelain have patterns of flowers, birds and fish, there are obvious differences because Thai craftsmen added their own understanding and depictions of nature to their work.
He said that Thais imitating Chinese ceramics reflects ancient Thais' craving for delicateness and civilization.
Nowadays, the Southeast Asian Ceramics Museum, together with Chinese experts, has held several seminars on ceramics trade from the end of the Yuan Dynasty to the beginning of the Ming Dynasty in Thailand.
Prasert's village has become the only one in Thailand devoting itself to the art of making Sangkhalok ceramics.
According to Prasert, there are about 40 families manufacturing Sangkhalok ceramics there and their products have been sold to different provinces of Thailand and also to foreign countries, as was the case in ancient times.