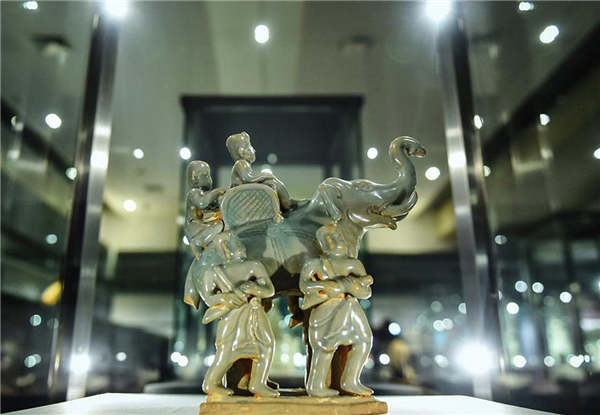 A Sangkhalok-style celadon elephant rider figurine displayed at the Southeast Asian Ceramics Museum in Bangkok University. [Photo/Xinhua]
Sangkhalok ceramics, an ancient product of the Silk Road and a combination of both Chinese and Thai cultures, are now being manufactured again and are winning new-found popularity due to the ceramics' unique colors and motifs. Forty years ago, a Thai farmer came across some ancient ceramic wares with distinctive detailing while he was plowing his fields.
The farmer, Prasert Mahothorn, was mesmerized by the vivid blue color and detailed patterns featuring fish and flowers. After that he devoted himself to studying the ancient techniques used to produce such spellbinding and beguiling artifacts.
The Sangkhalok ceramics originally uncovered by Prasert can be dated back to the Sukhothai Kingdom period (1238-1583) and the Ayutthaya kingdom period (1351-1767).
In the 1970s, more than 200 kilns were also found in the Si Satchanalai region, adjacent to Sukhothai city.
Locals set up a private museum to collect the excavated ceramic wares from this area and an entire village specializing on manufacturing new Sangkhalok ceramics emerged.
In a studio packed with Chinese porcelain, 72-year old Prasert told Xinhua that these delicate artifacts are exceedingly beautiful and that it was their beauty that drove him to learn how to make these ceramics when he was younger.
Imitating the motifs found on authentic ancient ceramic artifacts and combining them with other patterns he learned from books, Prasert's works, with their unique style, won him some Thai businesspeople as customers.
Once his business had become successful, Prasert set up a studio to teach his family members and residents of the village the technique of making Sangkhalok ceramics.