Dunhuang grotto art goes to Chengdu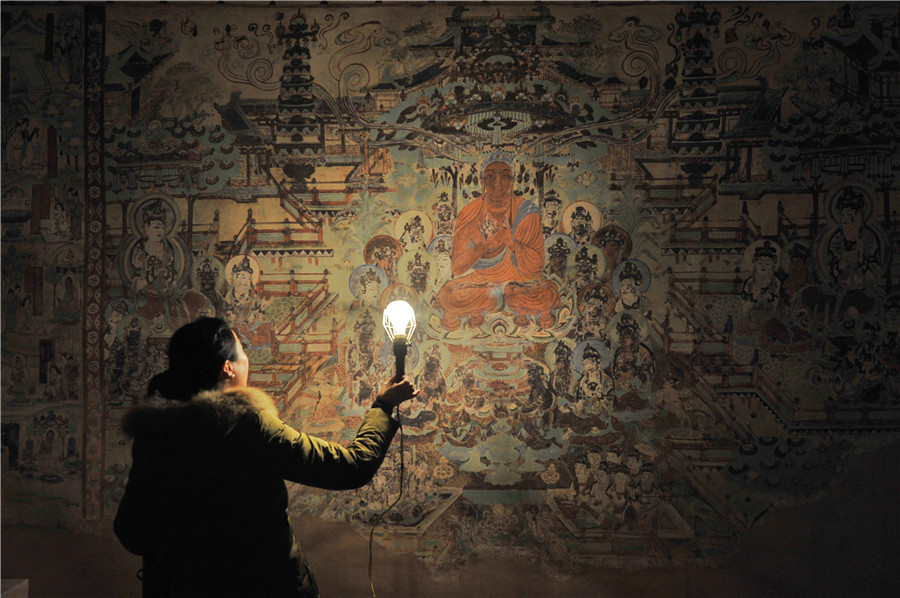 A staff member views a piece of a Dunhuang mural painting at the Chengdu Museum on Dec 6, 2016. [Photo by Chen Yuxiao/Asianewsphoto]
The Chengdu Museum is preparing to host an exhibition on Dunhuang grotto art and the Silk Road starting later this month.
The first batch of cultural relics from Dunhuang arrived in Chengdu, capital of Southwest China's Sichuan province, on Nov 28.
They include eight restored grottoes, 10 historical documents from caves for preserving Buddhist sutra and 70 pieces of Dunhang mural paintings.
As a major stop along the Silk Road, Dunhuang Mogao Grottoes is widely regarded as a treasure trove containing valuable information about religion, culture, economy, social life, and cultural exchanges in ancient China.
The exhibition, which opens on Dec 27, will try to recreate the Dunhuang Mogao Grottoes at the museum, to give visitors a feeling that they are actually there.