Officials go online to promote star products, become stars themselves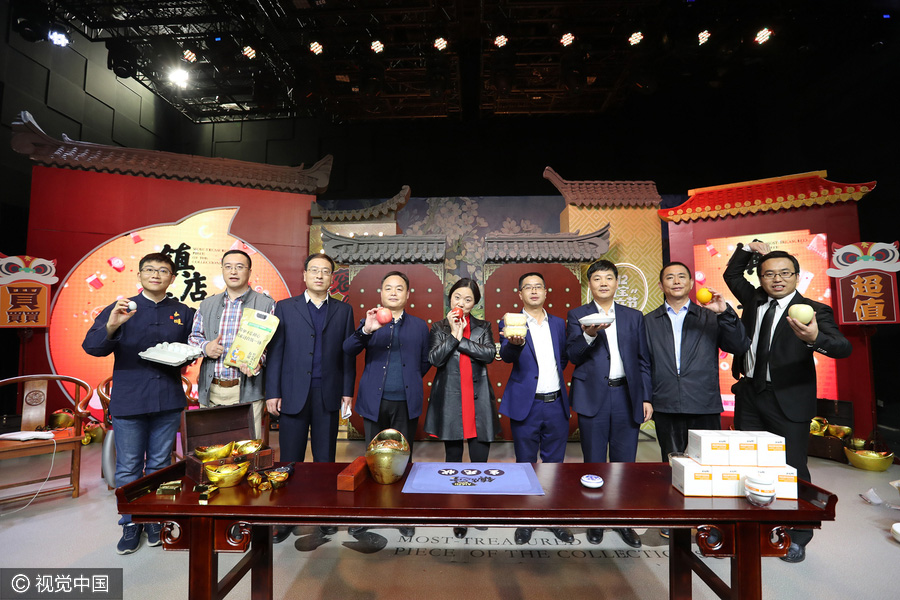 Eight deputy county heads and a researcher take part in the online reality show in Changsha, Central China's Hunan province, on Dec 3, 2016. [Photo/VCG]
Eight deputy county heads from seven provinces across the country have become online celebrities attracting millions of fans after they recently took part in a reality show to sell special native products of their counties on the internet.
The officials from Guizhou, Gansu, Shaanxi, Jiangxi, Shanxi, Jilin and Fujian provinces gathered in Changsha, Central China's Hunan province, on Dec 3, to take part in the show to promote their native products.
The show was live broadcast on the e-shopping platform Taobao.com, video streaming website youku.com and the satellite TV of Hunan province.
Officials have been urged to use creative ways in recent years, and the participation in televised programs and online activities to interact with the public has become a common way.
Data from Rural Taobao showed that more than 1.15 million netizens viewed the live reality show on Taobao or youku.com, and during the live broadcast, internet uses gave 54.6 million thumbs-up, or likes.
Liu Fenmei, the deputy head of Gansu's Lixian county, wore Chinese traditional clothes in the show to promote Huaniu Apple, a famous Chinese apple brand. Liu, the only female among the eight officials, received 5.91 million likes.
During the live broadcast, in order to attract buyers, some officials used special methods, such as boiling soup and singing songs. Liu Chunxiao, deputy head of Guizhou's Changshun county, ate a raw green shell egg on the show.

Related stories: