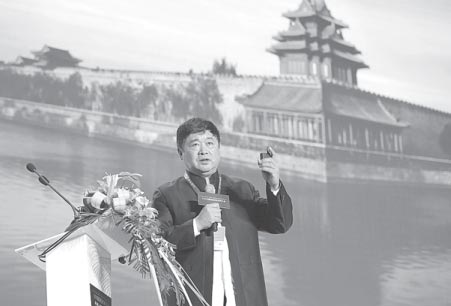 Shan Jixiang, director of the Palace Museum in Beijing, delivers a speech about smart tourism. [Photo provided to China Daily]
It's easier to travel in the smart tourism era.
You know how long you have to queue up for a ride in a Disneyland Park from an app when you swipe a finger across your mobile phone screen.
You can get all kinds of information from a machine with a large screen in a scenic spot and adjust your travel plans accordingly.
Smart tourism is helping popular destinations at home and abroad to better reach their target audience in China.
"The Palace Museum in Beijing has been striving to enhance visitor experience and tackle the huge flow of visitors via smart tourism," says the museum's director, Shan Jixiang, who attended the recent 2016 International Smart Tourism Conference in Hangzhou, in Zhejiang province where dozens of experts and tourism bureau heads exchanged views on the subject.
The museum's capacity is 80,000 tourists per day, and the peak time is Labors Day and the National Day holidays.
To make life easier for visitors, the museum has 32 ticket counters and guests can also buy tickets online.
According to Shan, thanks to these measures, visitors now have more time to see the attractions.
As for information about the museum, visitors can visit an information center, and also learn about exhibitions, the antiques on display and traditional Chinese culture through the museum's mobile apps and official WeChat account.
In the digital exhibition hall, when one touches the screen, a projection will showcase one of the 1,500 elegant carpets or photos of architecture. Also, tourists can get a copy of ancient calligraphy or see how they look dressed in the emperor's clothes.
Meanwhile, many overseas destinations are also promoting themselves via smart tourism in China.