A chance to relive simpler time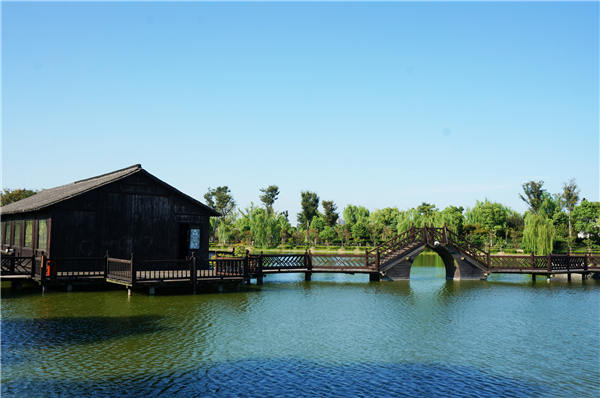 Hongshancun, about a 20-minute drive from Wuzhen, hosts lush trees, wooden bridges, lakes and historical buildings. Photo provided to China Daily
When visitors flock to the tourism hot spot Wuzhen and ask locals for their "best-kept secret", the answer they may hear is "Hongshancun", a leisure getaway about 20 minutes outside town.
The air was filled with sweet-scented osmanthus during my visit in late October, and the whole area was still clad in green.
Hongshancun resembles a big agricultural manor and covers an area of 33.3 hectares. There are lush trees, wooden bridges, lakes, historical buildings, entertainment parks and farmland. A moss-covered stone path meanders through the whole area.
The local authority has planted tulips, peonies, azaleas, lavender and chrysanthemums to offer a blossom-rich experience throughout the four seasons.
Between 200,000 and 300,000 visitors come every year, according to Shen Xinyu, deputy general manager of the tourism management committee. Many are local but the site also attracts road trippers from Shanghai and Hangzhou, Zhejiang's capital, he says.
Visitors can enjoy open-air barbecue and treasure happy hours with their children at a water park right next to the barbecue area. They can also dress up in ancient wedding costumes and go through old matrimonial rituals for fun.
The barbecue area sits at the bank of the Beijing-Hangzhou Grand Canal. Giant ships sail by.
Old-fashioned brick-laid cooking tables with wood-fire pits underneath big iron pots are arranged to form a 150-meter-long "cooking corridor".
Cooking food and getting close to nature are hallmarks of the local lifestyle.
"We have a tradition that a mixed rice has to be cooked at least once in the open air in April and May or after September," Shen says.
The mixed rice features seasonal ingredients, such as bamboo shoots, green peas, salty meat and sausages.
"Since people now mostly live in highrises, they have to go out for the tradition."
That's one of the reasons behind Hongshancun's popularity. The spot entices 1,000 guests a day from March to May.
The best part: All ingredients are well-prepared once reservations are made. They're ready for guests to do the actually cooking themselves.
The price ranges from 280 yuan ($41) to 360.
The park plans a lantern festival and a food fair at the beginning of next year.
The idea is to enable the public to savor life in the old-fashioned way.