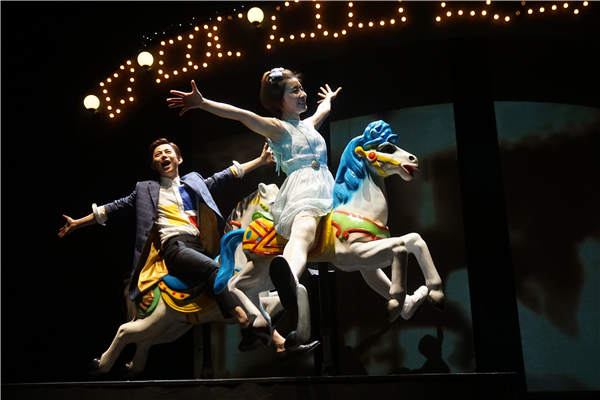 He Jiong (left) stars in Writing in Water, a stage production directed by Stan Lai, during the Wuzhen festival. Photos provided to China Daily
The Wuzhen Festival took the theater world by storm when it was launched in 2013 with its passion and professionalism. It's charting a new course under Meng Jinghui, its artistic director. Raymond Zhou reports.
On the day the Fourth Wuzhen Theater Festival opened, on Oct 13, Dario Fo died.
News of the Italian playwright's death shocked Meng Jinghui, who is artistic director of this year's festival. He Had Two Pistols with White and Black Eyes, a piece written by Fo in 1960, was going to play at the open-air Water Theater the next day, directed by none other than Meng himself.
Meng had always wanted to invite Fo to be honorary chairman of the Wuzhen festival. But old age prevented the latter from making the trip. (He died at the age of 90.) "We will use the current production to remember him," says Meng.
Meng recalled his visit to the Nobel laureate in the late 1990s and how he was given many tapes and other materials.
Shortly before that, Meng directed Fo's play Accidental Death of an Anarchist in Beijing. According to local reports on the performance, Meng's production retained the comic style and subversive undercurrent of the original work.