Building bridges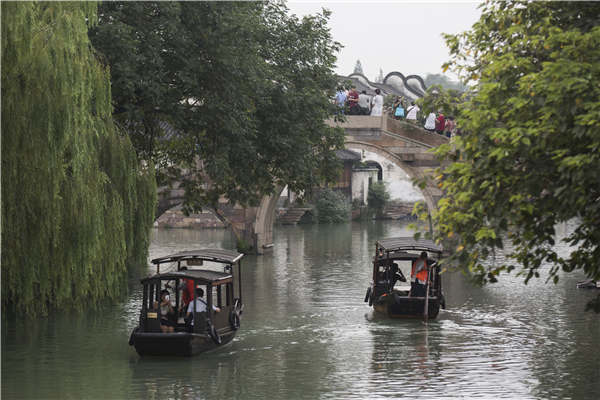 Crisscrossing waterways are now the biggest draw for visitors to Wuzhen, Zhejiang province. Visitors stroll along the banks or hop aboard boats to take in the views. [Photo by Shi Kuihua/For China Daily]
Wuzhen's signature waterways reflect the town's glorious past, Yang Yang reports.
Zhou Qiankang says the soul of Wuzhen lies in the waterways that have run through the town for centuries.
The 70-year-old is familiar with every street and bridge in this part of East China.
He is also an expert on the town's history for the local government.
Wuzhen's origin can be traced back 7,000 years, according to the discovery of the Tanjiawan archaeological site.
During the Spring and Autumn Period (770-476 BC) and the Warring States Period (475-221 BC), Wuzhen was the border between the Wu state in the north and the Yue state in the south. Wu stationed its troops here in defense.
Connecting with the Beijing-Hangzhou Grand Canal in the west, Wuzhen, as the transborder area of three prefectures-Suzhou, Huzhou and Jiaxing-has become an important stop along the canal. It is the largest ancient town in Tongxiang city.