Chopsticks shop brings dining culture to the table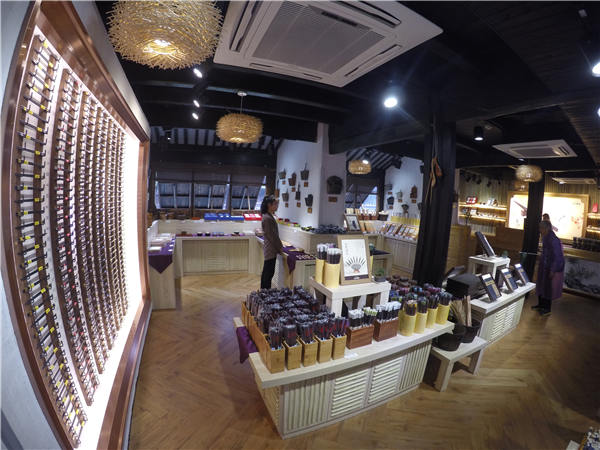 The chopsticks shop in Wuzhen displays a wall of chopsticks and paintings of the whole chopstick-making process and Chinese dining customs. Yang Feiyue/China Daily
Visitors can get a taste of China's chopstick culture-and take away pairs engraved with their names-in Zhejiang province's Wuzhen.
The water town's chopstick shop was all the rage after Chinese President Xi Jinping and Russian Prime Minister Dmitry Medvedev dropped in during their visits for the World Internet Conference last December.
Daily sales are now hitting 30,000 yuan ($4,400) in peak season and roughly 10,000 yuan on average, according to Shi Leihua, who runs the shop.
The price of chopsticks at the shop depends on materials and efforts involved, and ranges from merely 10 yuan to several hundred.
They are mostly made of bamboo, ebony and metal alloy.
"Bamboo and wood chopsticks are traditional but need maintenance, since they might decay if not used properly, while those made of alloy are relatively new and more durable," says Shi.
The shop was closed in May for expansion to better cater to visitors' needs and reopened to the public during the National Day holiday week in October.
It now covers 150 square meters, as opposed to a little more than 20 square meters before.
A demonstration zone has been added to spice up visitors' experience.