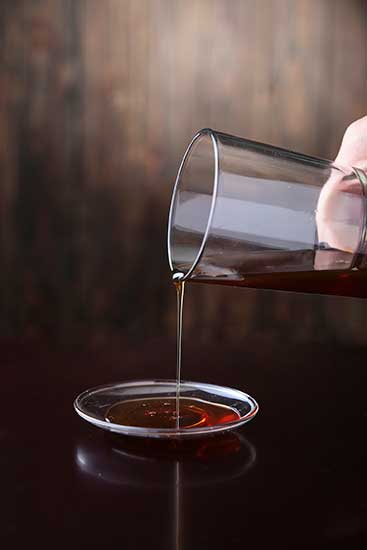 Golden caramel.[Photo provided to China Daily]
CouCou has five broths: Taiwan-style numbing spicy, lambspine, beef shank with tomatoes, Sichuan-style numbing spicy, and mushroom.
The signature one is the Taiwan-style mala (numbing spicy) base. I did not taste the soups, but Chang says diners will find them very different to the Sichuan-style numbing spicy usually on offer.
Taiwan-style broth is mildly spicy. It also has dozens of traditional Chinese herbal medicine ingredients such as bay leaves and cardamom, he says.
"It contains duck-blood curd, stewed for eight hours in the broth. It is extremely tender but gelatinous, and when you take a bite you will find it is juicy. The broth makes a very nice soup, too."
All the vegetables at CouCou come from the same sources that Xiabu Xiabu outlets rely on - their farm bases throughout China.
CouCou also has some ingredients for hotpot that are generally hard to find, for example, the spinal cord of deep-ocean cod.
"For every 150kg Alaska deep ocean cod, we can extract just one portion of 50g spinal cord," Chang says. "It's full of collagens. Just imagine tossing it into the hotpot and eating it with our secret dipping sauce. The texture and flavor are indescribable."