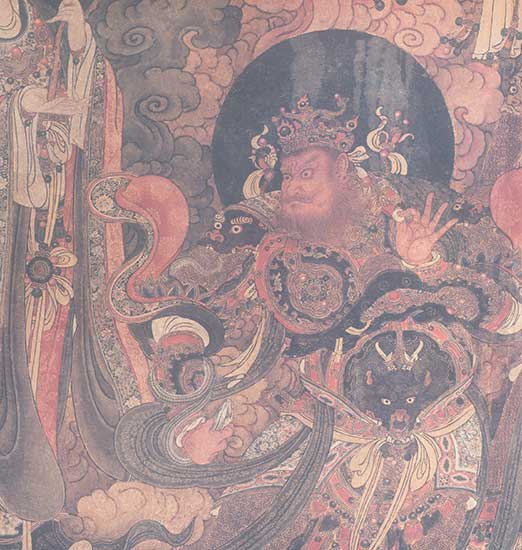 The metallic sheen on the warrior god's armor is produced by a millennium-old mural painting technique called li fen dui jin, or dripping of stucco and piling of gold.[Photo provided to China Daily]
"Over the years I've seen people come to this place and stand in front of the paintings. And I've seen tears streaming from their eyes in deeply intimate moments. Those are moments, I believe, of both discovery and self-discovery. The Fahai frescoes speak to anyone with a tender heart, whatever his or her religion or nationality."
Mo-shi-kou, where the Fahai Temple is located, is part of the flood plains shaped by the nearby Yongding River.
"A few hundred years ago Fahai Temple sat on the riverbed and was where the emperors came to observe the floods during the rainy season," says Zhang Zhanzhou, director of the Fahai Cultural Relics Protection.
Lu, for her part, considers water a potent metaphor for Fahai, a place immersed in allusions.
"The painted currents on the main hall's western wall are much more turbulent than those on the eastern wall. Bearing in mind that Buddhism came to China from India, a country to the west, the water seems a potent metaphor. In China the torrents of Buddhism became a forceful presence before eventually falling into a restful state."