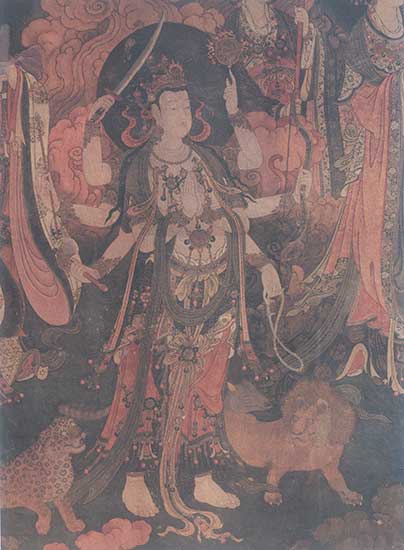 Sarasvati, a god in charge of wisdom, fortune and music with three enchanted animals-leopard, fox and lion.[Photo provided to China Daily]
"The frescoes transcend time and space, because all gods and goddesses depicted in them have Indian origins."
However, the most unmistakable Indian influence comes not in the form of frescoes, but in what is known as the caisson ceiling of the temple's main hall. The patterns of the ceiling, called mandala, are in fact a spiritual symbol in Indian religions, with their concentric circles and squares representing the universe.
Tao, who first came to the temple in the mid-1980s when he was 19, and who looks considerably younger than he is, says that spending more than 30 years in this small corner in western Beijing has helped make the frescoes an essential part of his life. "This means being enlightened by them in a way that resonates with our contemporary world."
An example involves the leopard, the fox and the lion, the three music-enthralled animals.
"For me, the leopard embodies aptitude; the fox wisdom; and the lion kingliness. A man of aptitude is put to use by man of wisdom, whose talent is in turn employed by man appointed to rule. I believe the painters adopted the image of the animals to reflect the order of their society, which, frankly, is still the order of all modern societies, including ours."
Tao says he is grateful for the uniting power of the frescoes that temple visitors have shown him.