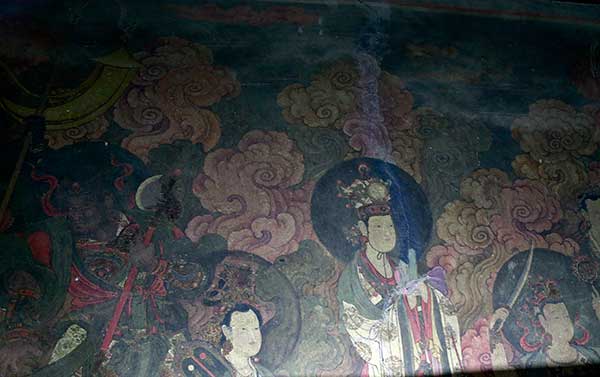 According to Lu Shaojie, the Farhai temple guide, a cracking has very rarely passed through the face of a god or goddess.[Photo provided to China Daily]
The elephant, whose eyelashes are painted with great delicacy, has tears welling out of both eyes. Bulky as it is, the animal seems to be heaving gently with every breath.
Despite being painted about 600 years ago, the frescoes assume an intimacy and immediacy for those who look closely enough. Lu focuses her flashlight on the sword-holding arm of Sarasvati. And all of a sudden, the finely painted arm, of a pale, pinkish color, seems to be stretching out of the wall and clasping the surrounding darkness with her sword.
In other cases, the smooth, silken skin of the goddesses - there are many of them here - is set off by the lush, brocaded fabrics of their clothing. The fabrics' reflective surface is further enhanced by a metallic sheen produced by a millennium-old mural painting technique called li fen dui jin, or dripping of stucco and piling of gold.
As its name indicates, artisans mixed stucco with natural gel before dripping it onto the pre-painted lines. Then, on top of this embossed layer of stucco the artisan then applied a mixture of gel and gold dust. The amount of gold used to paint the frescoes is hard to estimate.
Lu lights the fresco from under, and the beam is almost parallel with the wall, hitting only the raised parts of the mural, that is, the parts with the stucco and gold. And that is when the scale to which the technique was applied becomes instantly evident. From a warrior saint's iron armor to a waiting maid's gilt hairpin, everything that has a shimmer was allowed to shine.
"Fahai frescoes are of the Ming Dynasty (1368-1644) court style, with all the sumptuousness and sophistication associated with an imperial tradition," says Tao Jun, vice-director of the Fahai Cultural Relics Bureau, guardian of the Fahai Temple.
"However, aesthetically the murals also hark back to the Tang Dynasty (AD 618-907), in particular to the world-renowned Dunhuang Grotto murals painted during that time," he says, referring to the long, smooth lines employed for the drapes of clothes and the short, spiky ones to emphasize the muscularity of the warrior gods and their beasts.