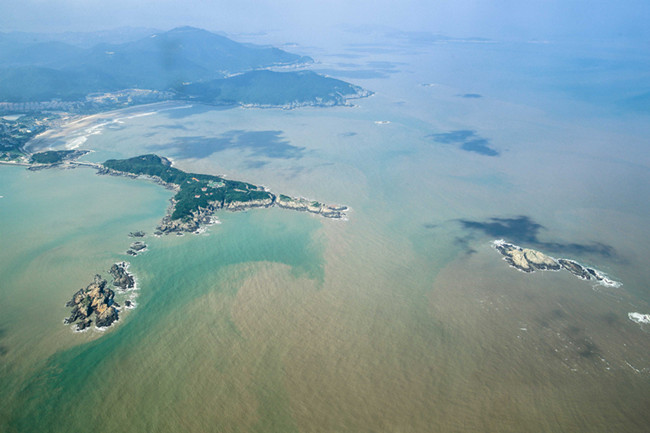 A Bird's eye view from a floatplane in Zhoushan city in Zhejiang province. [Photo provided to China Daily]
In Alaska alone, there are more than 100 floatplane points, and the whole of the US has more than 500 floatplane airports, some even able to house 1,000 floatplanes.
Schultz says that he now has to drive four hours to get from Shanghai to Zhoushan.
"The distance is not long but you have to go all the way around."
The floatplane greatly shortens travel time, and that's why the business is growing rapidly, he says.
His company has seen substantial annual growth over the past three years, and floatplanes now account for 30 percent of Textron's business in China.
While floatplanes may seem different, passengers need to go through the same security checks for the floatplane as they do for airplanes and everyone is required to wear a life jacket throughout the flight. Smoking is also not allowed.
So will floatplanes become as common as conventional aircraft?.
Despite my bout of nerves and my fearful neighbor, the others on the flight were very happy that they could sit close to the pilots and watch them fly.
One woman requested me take pictures of her with one of the two pilots when we got off the plane, and the young pilot wearing sunglasses obliged.
"The whole flight was cool and it was my first time interacting with a pilot," she says.