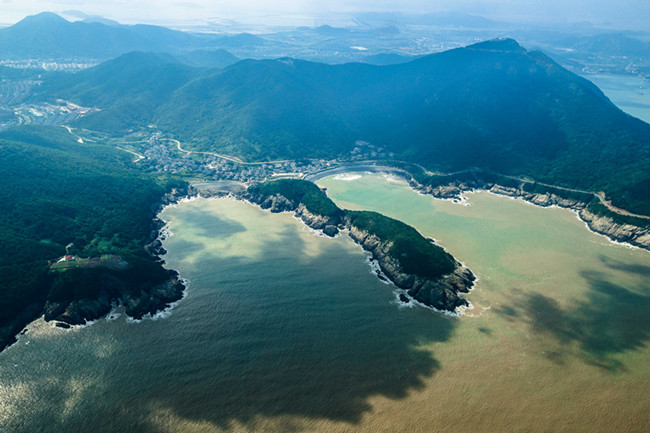 A Bird's eye view from a floatplane in Zhoushan city in Zhejiang province. [Photo provided to China Daily]
I couldn't help but let out a scream when the plane took a nosedive.
Before I got my breath back, it pulled up abruptly again, and I could feel my heart pounding.
A middle-aged man sitting beside me subconsciously reached out and grabbed my arm, and I saw fear in his eyes too.
"Do you guys want a second round?" asks the co-pilot, who turns his head towards us and is smiling as the plane is back on an even keel.
Both of us turn down his offer as gracefully as we can.
The flying stunt and the whole gravity-losing experience is part of a floatplane sightseeing package offered in Zhoushan city in Zhejiang province.
For now, floatplanes are used mainly for tourism in China.
In addition to Zhoushan, there are floatplane services in Sanya, in Hainan province, the Inner Mongolia autonomous region and Zhuhai in Guangdong province.
But the number of floatplanes is small.
A total of five floatplane sightseeing routes have been developed in Zhoushan, and they offer tourists a bird's eye view of local islands Putuo, Taohua and Dongji.
The floatplane maintains an altitude of 600 meters and this enables passengers to fully take in the scenery below featuring the yellow and blue seawater (the moving demarcation line in the water is magical). The dark-green islands resemble marine beasts.
The two floats on the fuselage allow the plane to land and take off on water, and seeing water violently splashing away when the plane touches the surface is a treat.