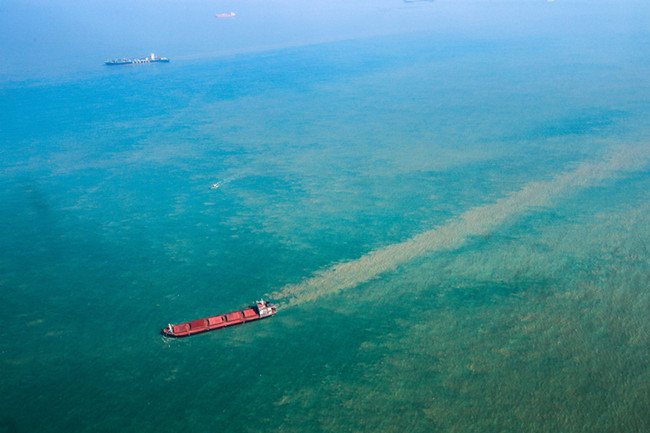 A Bird's eye view from a floatplane in Zhoushan city in Zhejiang province. [Photo provided to China Daily]
Currently, China has strict air space supervision and there are many procedures to be completed before launching a floatplane flight route. But the country has plans of opening low-altitude space, heralding a rosy picture for the industry.
Cao Wenyuan, a manager with the Joy General Aviation, says floatplanes can be used for tourism sightseeing, sea patrols, commuting and rescue operations.
"They are safe and need simple landing and takeoff conditions," says Cao.
Floatplanes also have many safety features, including two throttles, in case one breaks.
They also uses fewer resources, such as land, as compared with aircraft, and perform better when it comes to oil consumption and noise pollution.
At the moment, floatplanes are widely used in Vancouver in Canada, Alaska and Seattle in the US, and in the Maldives.
Floatplanes from Vancouver Coal Harbor Seaplane Base take visitors to Victoria Harbor, as well as Whistler, Nanaimo and Vancouver International Airport, enabling them to enjoy a magnificent landscape from above.
The floatplane has even been nicknamed the floating cab in Alaska.
Cao says that, Zhoushan, for example, has roughly 1,000 islands, so if aviation routes are approved in the future, it would be very convenient for people to shuttle back and forth between the islands.
Meanwhile, the potential of the Chinese market has attracted the attention of the international general aviation giants like Textron Aviation, which established a manufacturing business in Shijiazhuang, Hebei province, in 2012.
William Schultz, head of the company's business operations in China, says: "China is a very large country, with many cities and locations that are not always serviced well by airlines or the railway system, so that's where general aviation really works well, especially the floatplane."
He adds that China and the United States, for example, have approximately the same geographical size, and both countries have a very long coastal line and plenty of lakes and rivers, which represents great opportunities for floatplanes or general aviation development.
He says that floatplanes besides being used for passengers can also be used for special missions such as aerial mapping, emergency medical services and fighting forest fires.