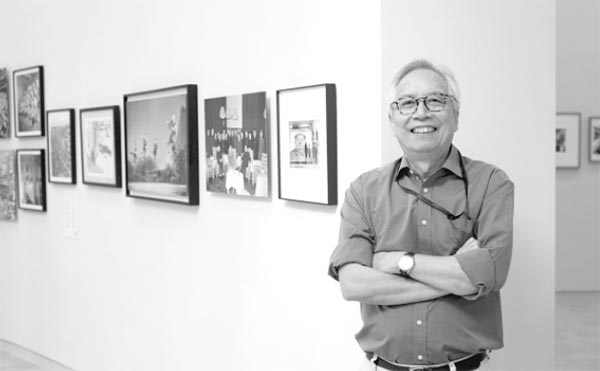 Photographer Liu Heung Shing sees photography as a most effective method of storytelling. [Photo by Gao Erqiang/China Daily]
Many people have argued that the true beauty of photography has been lost in this digital age when more and more people use smartphones to take and share photos on social media. While Liu Heung Shing concedes that photojournalism may be a dying profession, he is adamant that the craft is nowhere near its demise.
The Pulitzer Prize-winning photographer, who is the founder of the Shanghai Center of Photography, believes that craft of capturing images will exist so long as humans do, simply because it is in our nature to tell stories. He sees photography as a most effective method of storytelling as it is not bound by any barriers such as language.
Despite the millions of images that are taken and uploaded to social media sites every day, Liu says that good pictures are still rare, for it takes great skill to create one that can tell stories, evoke an emotional response from the audience, and become part of the "collective memory" of a nation.
Liu says that people now understand the challenges and difficulties involved in photography, as getting hands-on with the craft itself has made them realize that "photography is the easiest thing, and at the same time the most difficult thing to do". He views the immense popularity of photography as a good thing, saying that the phenomenon has got people more interested in the craft, resulting in record attendance figures at international photography exhibitions and art fairs.
Photo Shanghai, an international art fair organized by the World Photography Organization, is one such event that has greatly benefitted from the photography craze. The fair, which ran from Sept 11 to 13 at the Shanghai Exhibition Center, attracted 26,000 visitors.
Fair director Alexander Montague-Sparey said the crowd numbers is indicative of the considerable increase in awareness and passion for photography in China, which has subsequently translated into strong sales of iconic vintage and contemporary masterpieces.