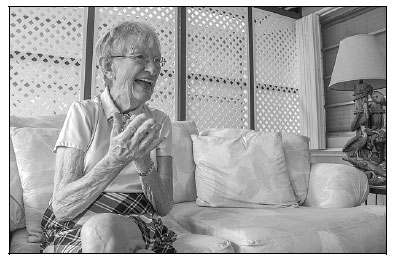 Mary Helen Abbott, 77, resides in East Ridge, a retirement village in Cutler Bay, Florida, and is a participant in a University of Miami study on 'super-agers', or seniors who manage to stay healthy and avoid the perils of dementia. Federica Narancio / Agence France Presse
Mary Helen Abbott, 77, paints her lips bright pink, still smokes the occasional cigarette, keeps up on all the gossip at the retirement home and wears a short skirt to fitness class.
She giggles as the aerobics instructor shouts - "Swagger! Like you are going to meet someone famous!" - then she and a dozen seniors throw shoulders back, lift their knees high and strut around the exercise studio.
Abbott is what scientists refer to as a "super-ager," and she is taking part in a $3.2 million study that aims to uncover the secrets to staying sharp and healthy into old age.
While some hunt for medications to treat or prevent dementia, others, like University of Miami neuropsychologist David Loewenstein, are interested in why some people are spared altogether.
"I study Alzheimer's disease, but if we want to unlock the mysteries of the brain we also have to know why some people age successfully," says Loewenstein.
The five-year study funded by the National Institutes of Health is open to people age 63 to 100 who have not been diagnosed with dementia, and who are either in good mental shape or have early signs of memory failure, known as mild cognitive decline.
Loewenstein is particularly intrigued with how some people seem to be able to fend off memory loss, whether by genetic, environmental or other means.
He cites studies involving autopsies on people 85 and above-a population in which about one in three suffers from dementia.