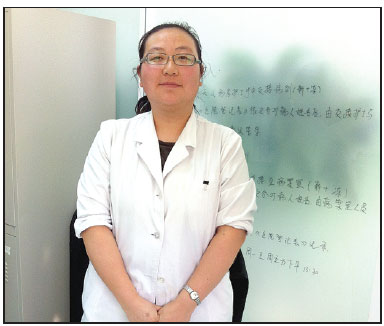 Zheng Mengzhu, China's first human to be born through assisted reproduction at the Peking University No 3 Hospital in Beijing. Provided To China Daily
A year before Zheng Mengzhu was born, her mother, a schoolteacher in Northwest China's Gansu province, and her father, a crop farmer, came to Peking University No 3 Hospital. The couple had long failed in their attempts to bear a child.
But they heard on radio that the Beijing facility had set up a special laboratory where "baby-making" trials were ongoing.
Helmed by the gynecologist Zhang Lizhu, who is now a 95-year-old retiree, the Test-Tube Baby Lab as the unit was called in the 1980s, was mixing human eggs and sperms in petri dishes to create embryos, which would be transplanted into the wombs of women seeking to get pregnant through such assistance.
The experiments were unsuccessful.
Even so, Zheng's mother, then aged 37, entered the in vitro fertilization program. She and her husband rented a house in Beijing for a year, and cooked their own meals and paid frequent visits to the hospital.
The pregnancy progressed, raising not just their personal hopes but also the aspirations of a country that was looking to be counted in world science.
Zheng, China's first IVF baby was born in 1988, a decade after Britain's Louise Brown, the world's first.