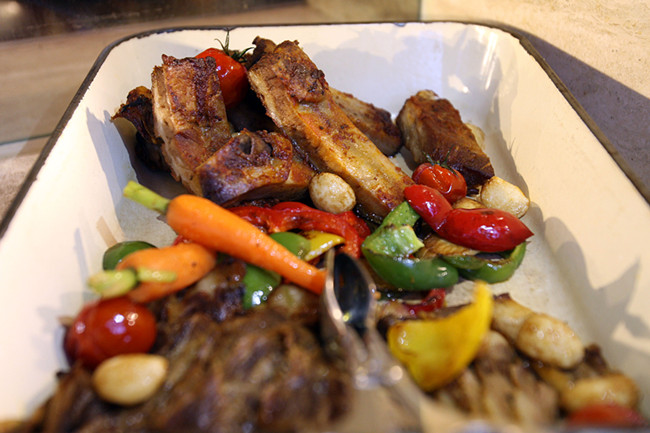 American-style barbecue.[Photo/Zhang Zhuangfei]
Rosenblum seems to be the perfect fit for the role of executive chef for the US ambassador in China given that he has been linked to the country and its food ever since he was a boy.
When he was 14, he found a job as a busboy, washing dishes, cleaning tables and packing delivery orders at Formosa, a Chinese restaurant in Marietta, Georgia.
The owner and chef was from Hong Kong, and the youngster was soon learning from him about the city's culinary traditions and language.
He went on to do Asian Studies at Cornell University in New York and was awarded a scholarship to Shanghai Normal University for a semester in 1998.
Shanghai gave him a taste of soup buns and dim sums, and he threw himself into learning about the country's regional food variations. It enthralled him, he says, and he decided to devote himself to Chinese cuisine.
Later Rosenblum would work as a chef in Chinatown, New York, and gained a small serve of fame because few people had ever seen anyone with fair skin and blonde hair preparing Chinese food.
At the same time he continued his language and cultural studies, and was eventually awarded a certificate in advanced Mandarin by Inter-University Program of the University of California, Berkeley and Tsinghua University. Rosenblum says his prowess in Chinese language and culture contributes to the way he cooks at the ambassador's residence.
"When we host Chinese dignitaries or when other important people come to the residence, I do a bit of research on the guests. I may even use ingredients from their hometown or use a certain cooking style or a famous dish, though it is still American cuisine.
"It's a way of letting people know when they see their plate and taste the food that we want to make them welcome, and let them know that a lot of thought has gone into preparing the meal."