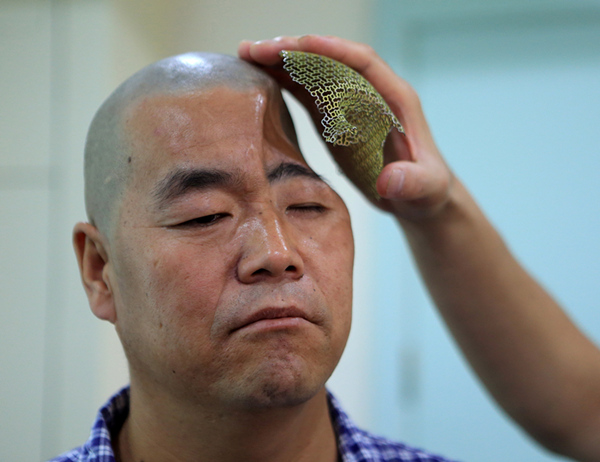 3-D printed titanium mesh by Xijing Hospital for patients with head deformity. Photo provided to China Daily
"One of our researchers developed a new technique. He dissolved the material in a solvent and squeezed the fluid out in an environment that was-30 C. Once printed, the fluid freezes immediately. During the freezing process, the additive material and the solvent separate and form a lot of pores. It's just like the process of freezing toufu.
"Then he removed the solvent and got the porous structure of the additive material ... There are big pores and small pores in the scaffold, which are very helpful to the growth of cells. This is our unique technique."
Another new, cutting edge technology being developed is the use of viable cells as additive materials to produce a three-dimensional living space for cells.
Usually, cells cannot live long after leaving the body and die within two or three generations. Nurtured cells usually grow along the walls of a two-dimensional surface, which is different from the environment of the human body.
Researchers found that cells react differently in two-dimensional spaces than they do in three-dimensional ones, so the different dimensions will affect the development of medicines.
For example, cancer cells spread on the walls of two-dimensional spaces but when 3D printed, they form a ball, researchers at the Bio-manufacturing Center found. They also tested the cells' reaction to some anti-cancer drugs in two-dimensional situations, and the results were different.
"So it seems for cells, a three-dimensional space is more like the environment of the human body," Lin said.
Lin says his researchers see a lot of potential for using 3-D printing technology in to create viable cells and other organs.
"With this technology, we set a real high goal for long-term development. We want to 3-D print organs. Although it will be very difficult, but without such a goal, how can we develop new advanced technology?"