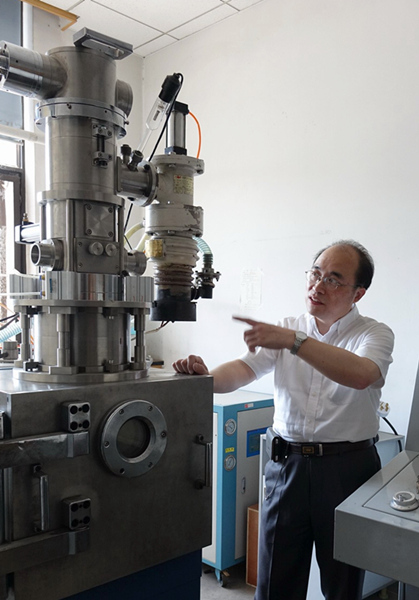 Professor Lin Feng with his 3-D printing machine. Photo provided to China Daily
3-D printing is being used to treat serious injuries and perform cosmetic surgery.
Using 3-D printing, researchers at Tsinghua University's Department of Mechanical Engineering can print viable human cells that can live outside the body.
They aren't yet able to regrow hands and feet, like in the science fiction movie Starship Troopers. But 3-D printing technology is already being used to treat diseases, repair organs and perform cosmetic surgery.
In his office at the university's West Main Building, Professor Lin Feng displays several models that were printed using 3-D technology. There's a plastic cover that can be placed over a person's teeth and used to guide dentists during surgery. There's also a small object that can be placed in an injured ear to help repair it.
The Department of Mechanical Engineering, where Lin works, has two centers for 3-D printing technology: the Bio-Manufacturing Center and Center of Rapid Forming.
In the 1990s, Professor Yan Yongnian, Lin's supervisor, started the Center of Laser Rapid Prototyping to develop laser technology. Lin was one of the first researchers at the center.
Researchers tried to improve the technology but ultimately concluded that they couldn't use it for manufacturing because of issues with accuracy. "So we needed to decide on the direction of our research ... And we found that in bio-manufacturing, rapid prototyping - or 3-D printing - has its advantages," Lin says.
At the Center of Rapid Forming, Lin and his team are testing a technology called electron beam rapid prototyping, which can be used to produce sophisticated components for cars, airplanes and rockets.
"I can't say whether our technology is better, but we have our own characteristics. Our 3-D printer can print two kinds of metal powder to produce alloys, but the Swedish company can only print one kind. However, their machines are more stable and accurate, and have been used in manufacturing, but we focus on scientific research."
Laser technology and electron beam rapid prototyping both have their advantages and disadvantages. For example, laser technology is more accurate, but electron beam rapid prototyping is higher in temperature and can be used to melt hard metals.