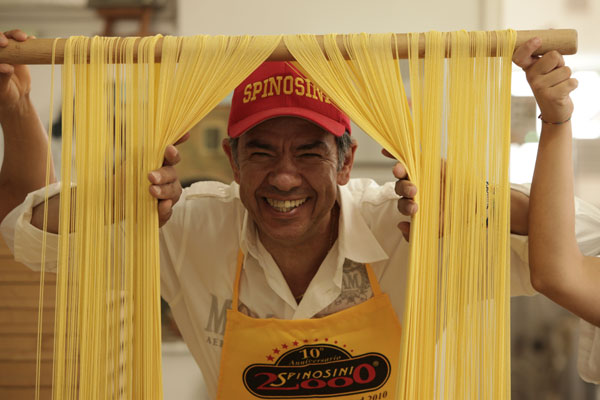 Pasta maker Vicenzo Spinosi. [Photo provided to china Daily]
He says the idea came from the eggs provided by a specific variety of hens called Livornesi that are fed with cereals and cold pressed sunflower oil rich in Omega 3 and vitamin E. His philosophy is to achieve the best result in the noodles by using the quality natural products.
"For the dough, only carefully selected durum wheat flour is used as well as fresh eggs still broken by hand as it has always been done in our laboratory since the very beginning."
The old recipe has been handed down unchanged.
Making the noodles is a very slow process, using bronze dies and rollers. Thus the dough is rough and porous, ready to be pulled and cut into various shapes and sections. Pasta cuts are "combed" manually on the back of a knife, and laid down on white sheets of paper folded by hand, then placed on wooden frames and left to dry for 24-36 hours at a low temperature.
The dough is prepared with the best durum wheat flour and fresh eggs, without adding any water.
Spinosi took over his father's business in 1973, and traveled around the world with a suitcase that contained a chopping board, rolling pin, eggs, and a knife, to show his family pasta.
Different from other well-known Italian pasta brands like Barilla, Nestle or Cipriani, Spinosi pasta is not usually found at supermarkets, but only at selected places such as exclusive restaurants in Italy, and a few other countries including the United States, Australia, China, Thailand and Abu Dhabi.