| | |
| --- | --- |
| | |
What first comes to mind when thinking of Lanzhou, capital of the Gansu province? Is it lonely smoke in the desert, surging Yellow River or the "Digest" magazine? I believe more than 90 percent of you are bound to think of hand-pulled noodles.
A bowl of hot, appetizing noodles with beef has long been the visiting card for Lanzhou in the eyes of many friends; hand-pulled noodles are even a synonym for Lanzhou.
Northwestern people also show great enthusiasm for other kinds of pasta ("mianduzi" according to locals) which offer multiple tastes: beef noodles for all seasons, cold noodles and soup noodles for summer, Islamic noodles braised with mutton, Lanzhou style noodles with soybean paste, heavy flavor noodles and fermented noodles.
Today let me, this non-authentic foodie, share with you a non-authentic roadmap for seeking pasta in Lanzhou.
First stop: Xiangyuan beef noodles
Wanxin South Road, Anning district, Lanzhou
Hand-pulled noodles with beef is the most famous and ubiquitous pasta in Lanzhou. Let me give you to two tips to measure quality. First, pay attention to the name of the restaurant; do not go to an eatery whose name involves "beef hand-pulled noodles" because locals prefer to say "beef noodles" instead of "hand-pulled noodles". Restaurants whose name involves "hand-pulled noodles" are probably not authentic. The second tip lies in the opening hours. Noodle restaurants in Lanzhou usually open from 7am to 3pm so if an eatery still provides noodles after 3pm, you can take it that restaurant is not authentic.

Beef noodle brands vary in Lanzhou: time-honored restaurants such as Mazilu and Maxueyou, fast food-chain restaurants such as Houliang and Zhanguo, high-end restaurants including Anboer, Wumule and Mingdegong, and characteristic ones like Saddam, San Shaoshao and Shejianjian. Flavor prevails over concepts and hypes; Xiangyuan, I recommend, is a perfect choice.
In addition to the basic requirement for beef noodles that it should be made with soup, radish, pepper and onion, it is also one of the biggest attractions in this restaurant that it adds garlic sauce for better flavor and advocates "half nutrition without garlic". Other restaurants follow suit to compete so that locals prefer to call Xiangyuan beef noodles garlic beef noodles.
Customers visiting this restaurant can choose different kinds of noodles and add coriander, garlic sprouts, pepper and radish according to taste. When enjoying the delicious noodles, they can also select pickles, tea eggs and spiced beef by itself. For improved flavor, it is recommended to add streaky beef and steep it in hot soup.
Second stop: Zirui Restaurant
No. 1155, Nanbinghe Middle Road, Qilihe district
Can't stand the heat when eating beef noodles in summer? Good news, in Lanzhou, you are able to enjoy unique food - soup noodles to relieve summer heat, the most common homemade pasta in the northwest.
For making special acid soup, celery is used as the main ingredient with Chinese cabbage and wild vegetables as alternatives; pickles are not left in the soup after curing and fermentation. Boiled in plain water, striped or sliced noodles are blended with the prepared cold soup (ferment with vinegar and vegetables for three days) after cooling in cold water.
With some coriander leaves and soused leek, you can enjoy it while adding "tiger spicy" seasonings involving pepper, garlic, onion and ginger. Delicious noodles, hot spices and refreshing soup are bound to be a perfect match. People's great love for them can be traced back to the late Qing Dynasty when Wang Xuan, an official from Lanzhou, wrote a poem in appreciation of soup noodles.
Zirui restaurant is a good place to have soup noodles. Although other dishes are also offered its great appeal remains soup noodles. Customers can order soup noodles only or a package in which braised pig's feet and pork ribs with a secret recipe are involved. The soup is moderately acidic while the trotters and ribs are savory but not greasy providing energy and protein necessary for health. The packages of soup noodles and pork ribs are definitely worth a try.
Third stop: Chestnut (Lizi) Zhang plain cold noodles
Nongmin Alley, Chengguan district
In addition to soup noodles, the other delicious pasta only made in summer is plain cold noodles. It is part of a series of noodles with gravy.
Marinade for steeping the noodles only contains vegetables so that the name, plain cold noodles, comes into being. Previously boiled hand-pulled noodles constitute the main ingredient; after cooling down, they are blended with sesame oil.
Every customer enjoys one bowl of noodles and the shop owner steeps the noodles with prepared marinade in which spinach, cauliflower and potato are used. On the seasoning list are boiling oil spice, mustard, sesame sauce, garlic sauce, vinegar and salt.
In the hot summer afternoon, it is a perfect experience to have a bowl of delicious plain cold noodles and enjoy the complimentary icy soup after finishing work. You may feel confused when exposed to the name of this restaurant - Chestnut (Lizi) Zhang: what on earth does it sell, chestnuts or noodles? This restaurant is also an exclusive shop selling chestnuts roasted with sugar, which enjoys popularity in Lanzhou. The shop owner sells chestnuts in autumn and cold noodles in summer. Due to high rent, the shop is very small so customers often enjoy their noodles crouching by the side of the road.
The restaurant also offers roasted mutton shashlik (kebab). Roasted mutton at Chestnut Zhang is of high quality so if you are a meat-eater, you are recommended to enjoy cold noodles with savory mutton shashlik.
Fourth stop: Jincheng first fried sliced noodles
No. 98, Dazhong Alley, Zhangye Road, Chengguan district
Many Muslims are located in Lanzhou. Apart from the Hui ethnic group, there are other Islamic minorities such as the Dongxiang, Baoan and Sala groups. While bringing colorful ethnic culture, Muslims also introduce unique foods to the city. Fried sliced noodles I recommend as one of delicacies created by our Muslim friends. This is a kind of pasta with lamb, of which the cooking process is as follows: boil the sliced noodles until medium-done, then fry them in a wok with diced lamb, pumpkin, garlic, capsicum, onion (garnishes change according to seasons) and sprinkle burning oil spices after putting the noodles in the bowl.
Authentic fried sliced noodles are made by hand and are about the size of a thumbnail. According to the Lanzhou dialect, a bowl of sliced noodles is also called "ga sliced noodles", which is often oil immersed and heavily flavored in line with the taste of people in the north.
If you come to this restaurant, two other dishes are highly recommended. One is shop-made braised beef shank; select tendon with meat sprinkled with spiced salt, coriander and pepper oil. The other is a salty soup in which noodles have been boiled. With added alkaline noodles for blending, the soup contributes to dissolving grease as well as digestion.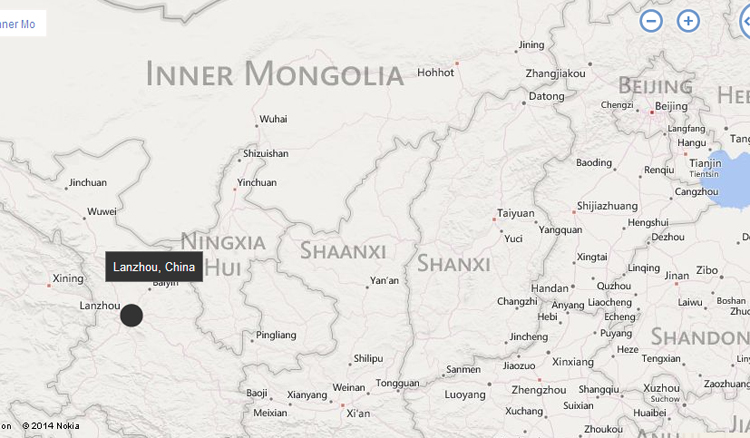 Photos and the city's description are provided free by our netizens. We thank them for their contributions. If you would like to share your city, please contact us:blog@chinadaily.com.cn