For meat, pasta rich or plain no sauce is ever mundane
Updated: 2013-09-20 15:34
By Maggie Beale (HK Edition)
| | | | | | | | | |
| --- | --- | --- | --- | --- | --- | --- | --- | --- |
|   | | Print | | Mail | | Large Medium  Small | 分享按钮 | 0 |
One of the most exacting culinary skills for a food professional is that of the saucier - the sauce maker, it is the skill that showcases the dishes with style. Even in your own home it is wise to master a few basic sauces, when done well they can transform a simple basic dish into a repast fit for a king.
Sauces can be as simple or as elaborate as you - and your budget - can handle. They can be used for meat, poultry, fish, seafood and the eternal favourite - pasta.
All the sauces this week are vegetarian: slow-cooked Tomato, Puttanesca sauce, creamy Vodka penne, and the Sicilian speciality Pasta alla Norma.
If using the sauces with pasta, prepare the boiling water with salt for cooking the pasta before starting the sauce and calculate the pasta cooking time to coincide with the finished sauce. If you miscalculate you can heat up the pasta in the finished sauce for a minute or two.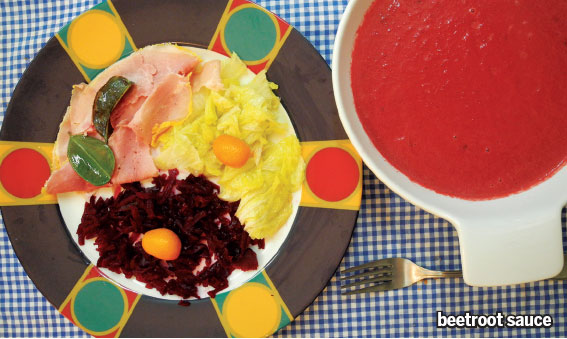 Slow-cooked tomato sauce for 3-4 people: Heat 2 Tbsp olive oil in a frying pan and saut 1 finely chopped red onion for 5-6 minutes until it softens, don't let it go brown. Add 2 chopped cloves of garlic - beautiful purple garlic is in some stores right now - and gently fry for two minutes, add 800 gms of tinned tomatoes and cook for 10 minutes more. As the tomatoes soften, mash them down in the pan and add 200 ml of home-made celery juice or vegetable stock. Let the sauce simmer for a further 30 minutes, adjust the seasoning and use this sauce over short pasta. You can substitute boiled and crushed beetroot for the tomatoes as a variation. Fresh beetroot is washed but NOT peeled and simmered in water to cover for 40 minutes until softened, cooled enough to handle, peeled and crushed (in a food processor). Grated cheese of your choice may be added: parmesan, cheddar, mature gouda etc.
For the next sauce, use short pasta such as penne or shell-shaped pasta.
Creamy Vodka sauce for 5-6 people: Scale, wash and remove the skin from 250 gms fresh salmon. Heat 1 Tbsp olive oil in a large saut pan, add 1 chopped yellow onion and 3 garlic cloves, lower the heat and cook for five minutes.Add 1 Tbsp oil more and saut the fresh salmon for three minutes on each side. Remove the fresh salmon to a plate and flake with a fork to carefully remove all the bones, cover and set aside. Put the pan back on medium low heat and add 1 x 28-ounce tin of Italian chopped tomatoes and 100 gms smoked salmon cut into stripes, along with 2-4 Tbsp vodka, allow the vodka to burn off for 3-5 minutes before adding 2 fl.ozs ( cup) of thick cream, heat for one minute, remove pan from the heat, add the flaked fresh salmon, stir to meld and add salt and ground black pepper to taste. Finish off by adding a sprinkling of chopped flat parsley and serve over cooked pasta.
Pasta alla Norma, this is a classic sauce from Sicily, the island off the southern coast of Italy. It's a vegetarian dish made with eggplant and short penne pasta. Traditionally the cheese for this sauce should be ricotta salata, but that may be difficult to find here, so you may substitute smoked mozzarella.
Don't be tempted to skip the preparation of the eggplant, it does make a difference to the finished dish. For 4-6 people, slice 2 large eggplants into rounds or cubes, sprinkle liberally with to 1 tspn salt and set aside for 15 minutes. This removes the bitter vetch from the vegetable and stops it from becoming soft and soggy when cooked.
Wash, drain and pat the eggplant dry. Put 2 Tbsp oil into a large frying pan and bring to a medium heat, add 4 chopped cloves of garlic and the prepared eggplant and fry for two minutes moving the veggie around the pan gently to make sure a little oil coats it all. Rub tspn dried oregano between your palms and add to the sauce and cook for one minute, add chopped chilli to taste or a dash or two of Tabasco or chilli oil, and add one 26ozs tin of chopped Italian tomatoes with or without basil as you prefer, adjust the seasoning and simmer for 10 minutes. Test the pasta for doneness and toss the pasta well with the sauce, add grated ricotta salata (salted ricotta cheese) or mozzarella fumata (smoked mozzarella).
Puttanesca sauce for two people; this sauce was first conceived in the port city of Naples in southern Italy by 'ladies of the night'. It is especially suitable for spaghetti or bavette and quick to do. Gently saut 3 minced cloves garlic, 3 tspn rinsed and drained capers, 2 Tbsp black olives (cut in half and pits removed), 2 anchovies (tinned in oil) and 1 chopped chilli pepper. As the anchovy heats up in the pan stir and mash it into the oil - it will come apart quite easily adding lots of flavor to the sauce. The sauce should simmer for 9-10 minutes, just enough time to boil the pasta. Add grated parmesan cheese if desired.
(HK Edition 09/20/2013 page7)