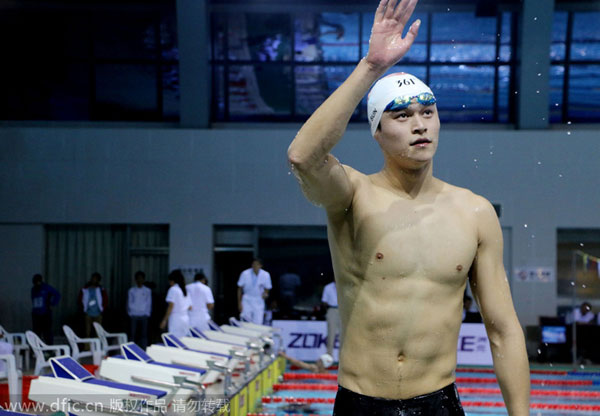 Olympic champion Sun Yang wins his favored 1,500m freestyle event at the Chinese National Swimming Championships, clocking 14 minutes 54.52 seconds, in Huangshan, Anhui province, Oct 14, 2014. [Photo/IC]
BEIJING - Zhejiang swimming team left for winter training in Australia on Wednesday without double Olympic champion Sun Yang.
Some of the swimmers will be coached by Sun Yang's Australian coach Denis Cotterell, who split with Sun as a result of the new policy to be implemented by Swimming Australia after Sun's doping ban was revealed.
Sun's coach Zhang Yadong didn't reveal Sun's winter training plan.
The Chinese Swimming Association (CSA) announced last month that it had banned Sun for three months from May 16 to August 17 as he had tested positive for the banned stimulant trimetazidine during the national championships in May.
Swimming Australia on Dec 5 confirmed that a new policy regarding the process of notification and approval for the coaching of foreign swimmers was recently accepted and would be implemented. According to the policy,Sun Yang is banned from training in Australia by coach Denis Cotterell.