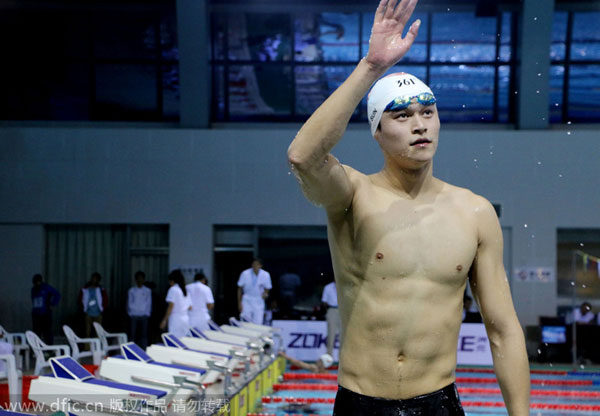 Olympic champion Sun Yang wins his favored 1,500m freestyle event at the Chinese National Swimming Championships, clocking 14 minutes 54.52 seconds, in Huangshan, Anhui province, Oct 14, 2014. [Photo/IC]
CANBERRA - Chinese swimming star Sun Yang has been barred from training in Australia and Denis Cotterell will not be his coach any more after Sun was banned for doping, according to Swimvortex Wednesday.
The Chinese Swimming Association announced last week that it had banned the double Olympic champion for three months from May 16 to August 17 as he had tested positive for the banned stimulant trimetazidine in May.
According to reports in Australia, Australian coach Denis Cotterell, who has guided Sun, was adviced to sever ties with China.
"I met Denis last Tuesday," Swimming Australia high performance boss Michael Scott told some Australian media. "As a result of that meeting and our policy Denis has advised the Chinese swimming federation that Sun Yang will not be allowed to train at Miami (on the Gold Coast) anymore or any of our podium centers."
He added that the integrity of Australian swimming was paramount.
"It was a very straight forward call, which Denis supported and has been acted upon already," Scott added.
Scott added that Australia was tightening rules on foreign swimmers coming to the country, requiring them to register with the Australian Sports Anti-Doping Authority for out-of-competition testing.