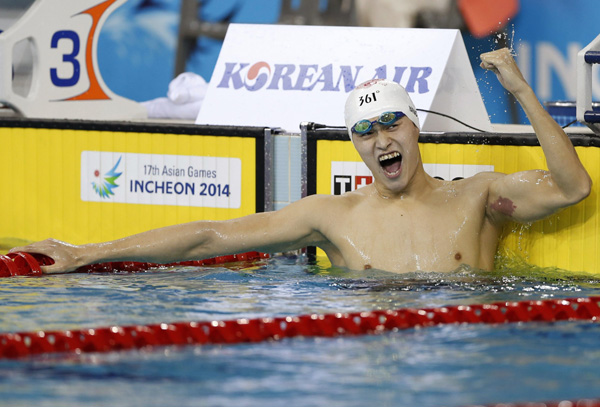 Gold medallist Sun Yang of China reacts after winning the men's 400m freestyle final swimming competition at the Munhak Park Tae-hwan Aquatics Center during the 17th Asian Games in Incheon September 23, 2014. [Photo/Agencies]
INCHEON - China's world and Olympic champion Sun Yang beat Japanese Kosuke Hagino to claim the men's 400m freestyle gold medal on Tuesday, saying his victory killed Japanese morale in the Asian Games swim competition.
Sun, still troubled by a hand injury, clocked 3:43.23, 1.25 seconds clear of runner-up Hagino, who stunned Olympic champions Sun and Park Tae-Hwan over 200m on Sunday.
South Korean Park faded away since the 200m mark and had to settle for a bronze in 3:48.33.
"I am sorry for Sunday's loss," Sun told a reporter with China's state television CCTV. "My victory today killed Japanese morale."
Sun admitted Japan remains stronger than China in Asian men's swimming, saying "that's why we should keep fighting."
"I will make up for Sunday's loss by swimming better in later competitions," added Sun.
Sun said the hand injury, which cost him the 200m gold, was still felt in Sunday's final. "I tried not to think about it during the race," he said.