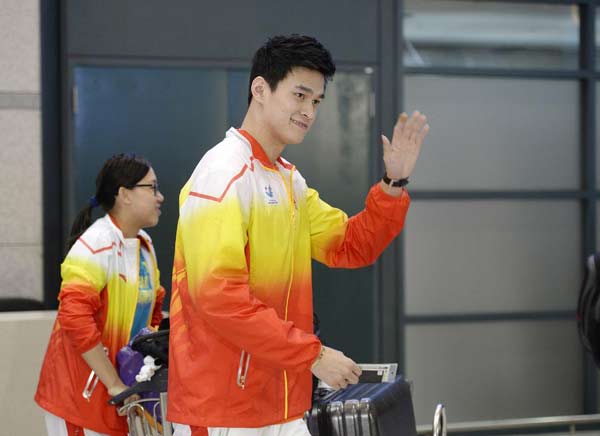 Chinese swimming star arrives at the the Incheon Airport for the 17th Asian Games in Incheon, South Korea, Sept 16, 2014. [Photo/Xinhua]
INCHEON - China's flamboyant swimming star Sun Yang, the biggest rival of South Korean Olympic gold medalist Park Tae-hwan, held a much-anticipated open practice here on Wednesday.
Sun practiced for about one hour at the state-of-the-art arena named after Park in the western port city of Incheon, in what was his first workout before the 17th Asian Games that officially kicks off on Friday.
Park held a closed-door practice at the Munhak Park Tae-hwan Aquatics Center earlier on Wednesday.
Sun, 22, earned victories in the men's 1,500-meter and 400m freestyle events at the 2012 London Olympics, sharing a silver medal with Park in the 200m. He is slated to compete in the 200m, 400m and 1,500m freestyle here, setting the stage for an intriguing battle with the 24-year-old Park.
Sun is slated to participate in the 4x100m and 4x200m freestyle relays as well.
The Chinese superstar, who arrived in Incheon on Tuesday with the rest of the Chinese delegation, wrapped up the practice and left the arena without commenting.
"(The arena) is fine although it is smaller than other arenas of continental events. The water temperature is fine as well," Sun's coach Zhang Yadong told media.
In a 15-second TV commercial, a confident Sun has publicly thrown down the gauntlet to Park.
Speaking in Chinese, Sun says in an arrogant tone, "Athlete Park, you set a new record at the last Asian Games, but I already broke the record. So, can you challenge my record at the Incheon Asian Games?"
Wearing a swimsuit, Sun also says in Korean, "Mr Park, you are great."
Although Sun is China's swimming icon, he was previously suspended from training and competition in November for driving without a license.
Park claimed his first world championships in the 400m freestyle in 2007. At the 2008 Beijing Olympics, Park made history by taking the gold in the 400m freestyle - the first Olympic swimming medal by a South Korean - and added the silver in the 200m freestyle for good measure.
After going through a slump, Park bounced back at the 2010 Asian Games in Guangzhou, China, where he swept up gold medals in the 100m, 200m and 400m freestyle. He became the third swimmer, and the first male, to accomplish the trifecta at the back-to-back Asiads.
He added two more Olympic medals in 2012 - silvers in the 200m and 400m freestyle.