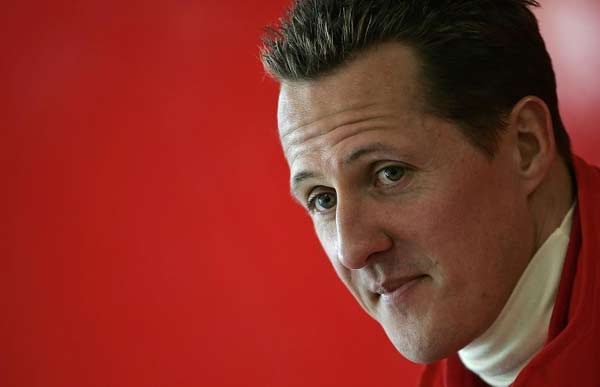 Michael Schumacher of Germany looks on during a news conference at the end of the official presentation of the new Ferrari Formula One race car 248 F1 at the Mugello racetrack in Scarperia, central Italy, in this Jan 24, 2006 file picture. Former F1 champion Schumacher is leaving Lausanne hospital for Swiss home, a family statement announced on Tuesday. [Photo/Agencies]
GLAND, Switzerland - Former Formula One champion Michael Schumacher has left a Swiss hospital and will continue his recovery at home, his manager said Tuesday.
The seven-time F1 champion suffered a serious head injury while skiing in France at the end of December.
"Considering the severe injuries he suffered, progress has been made in the past weeks and months," his manager, Sabine Kehm, said in a statement. "There is still, however, a long and difficult road ahead."
Schumacher was transferred to a hospital in Lausanne in June, after six months at a hospital in France. Kehm said he was now at his home in Gland, near Geneva, without specifying when the move happened or giving details about his current condition.
"We ask that the privacy of Michael's family continue to be respected, and that speculations about his state of health are avoided," Kehm said.
Schumacher's accident happened on a family vacation as he was skiing with his 14-year-old son at the Meribel ski resort in the French Alps.
The avid skier hit the right side of his head on a rock, cracking his helmet. Doctors operated to remove blood clots from his brain, but some were left because they were too deeply embedded.
Schumacher's condition stabilized after he was placed in a drug-induced coma, from which he has since emerged.