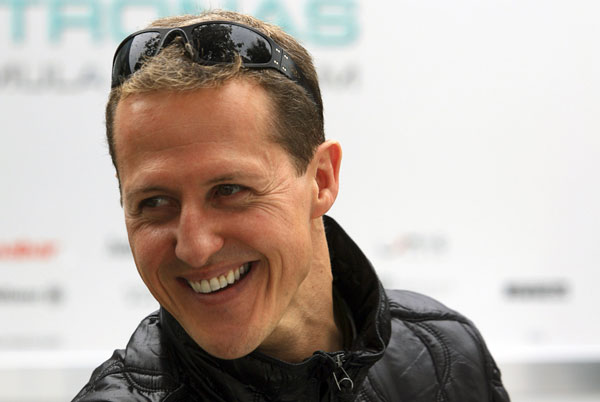 Mercedes Formula One driver Michael Schumacher of Germany smiles at the back of the pits ahead of this weekend's Australian Grand Prix in Melbourne in this March 24, 2011 file photo.  [Photo/Agencies]
GENEVA/LAUSANNE, Switzerland - Seven times Formula One racing champion Michael Schumacher, who suffered severe head injuries in a ski accident last year, has come out of a coma and was transferred to a Swiss medical centre on Monday, officials said, but gave no details of his condition.
Schumacher, the most successful Formula One racer of all time, has had several brain operations since his accident in the French Alps in late December. He was moved for further treatment early on Monday to Lausanne's CHUV hospital, a sprawling modern glass-fronted complex above Lake Geneva.
The centre treated former Zairean dictator Mobutu Sese Seko for cancer in the mid-1990s and last year its forensic scientists analysed the remains of the late Palestinian leader Yasser Arafat for traces of poison.
Schumacher, hugely popular in his native Germany and across the world in a sport that had become immensely lucrative in the course of his career, has been regularly visited at his bedside by his wife Corinna.
Doctors reported in April that he was showing signs of waking from a coma artificially induced to limit any brain damage.
LONG RECOVERY
He slammed his head against a rock while skiing off-piste over the Christmas holidays near their chalet at Meribel in the French Alps, about two hours from their home along Lake Geneva.
"Michael has left the CHU Grenoble (hospital, in France) to continue his long phase of rehabilitation. He is not in a coma anymore," spokeswoman Sabine Kehm said in a statement.
Lausanne hospital spokesman Darcy Christen confirmed Schumacher had been admitted but declined to say what unit he was being treated in, citing medical secrecy and family privacy.
Professor Simone Di Giovanni, an expert in restorative neuroscience at Imperial College London, said it was very difficult to predict recovery in people emerging from a coma.
"That can range from someone who merely opens their eyes and may be able to respond to verbal input, to someone who opens their eyes and moves their hands in response to painful input, to someone who interacts with their environment fully and uses language and maybe can have a simple conversation," he said.
"In this case, nobody - with the exclusion of the doctors who are treating Michael Schumacher - knows exactly what the condition of the patient is."
He added however, that rehabilitation would be almost certain to improve Schumacher's clinical condition, whatever that might be, over the coming weeks and months.
Schumacher, 45, won a record 91 Grand Prix victories before retiring in 2006. He made a brief comeback with Mercedes but finally stopped racing last year.