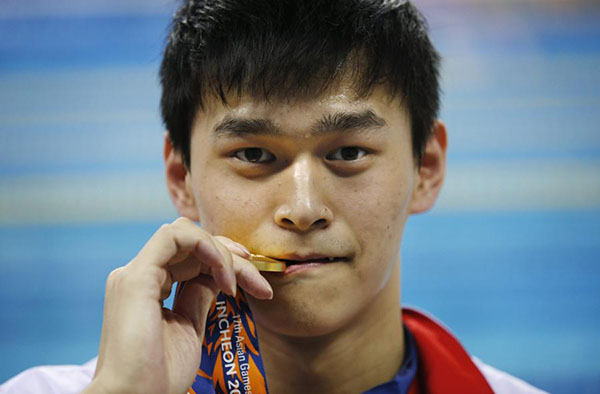 Gold medalist Sun Yang poses after the victory ceremony for the men's 4 x 100m freestyle relay final at the Munhak Park Tae-hwan Aquatics Center during the 17th Asian Games in Incheon in this September 24, 2014 file photo. [Photo/Agencies]
BEIJING - Chinese multi-Olympic and world swimming champion Sun Yang had failed a doping test and been banned for three months, China Anti-Doping Agency (CHINADA) told Xinhua on Monday.
Sun tested positive for stimulant trimetazidine in an in-competition doping test on May 17 during the national swimming championships.
Sun gave up the chance to have the B sample tested but defended himself in a July hearing where the experts decided to hand him a three-month ban.
Sun said he used the drug for medical reasons and had been unaware that it was listed in WADA's 2014 prohibited list. Trimetazidine is able to increase coronary flow reserve and was added to the prohibited list in January 2014.
Sun Yang has always been different from China's other top swimmers, as much a maverick as a pioneer.
And not just because he is the first Chinese man to win an Olympic swimming gold medal. Or that he spent time in jail.
While most of China's best swimmers prefer to keep a low profile, Sun just cannot escape the spotlight, courting drama and controversy wherever he goes.
At the 2012 London Olympics, Sun won the 400 and 1,500m freestyle gold medals, as well as a silver in the 200m and a bronze in relay, but nothing was routine.
He came within a whisker of breaking the 400m world record on the first day, just ahead of his great South Korean rival Park Tae-hwan, who was disqualified for a false start in the heats then reinstated on appeal and allowed to contest the final.
Sun dead-heated with Park in the 200m then was almost disqualified himself in the 1,500m - his best event - when he lost his balance and tumbled into the water after an official aborted the start when someone in the crowd yelled out.