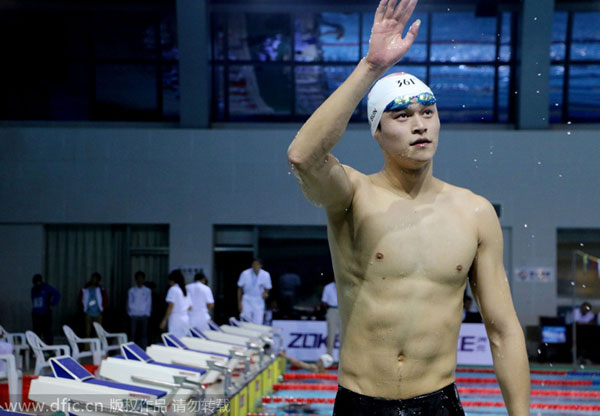 Olympic champion Sun Yang wins his favored 1,500m freestyle event at the Chinese National Swimming Championships, clocking 14 minutes 54.52 seconds, in Huangshan, Anhui province, Oct 14, 2014. [Photo/IC]
HUANGSHAN, East China - Olympic champion Sun Yang dominated his favorite 1,500m freestyle on the first day of the Chinese National Swimming Championships here on Tuesday while Ye Shiwen made a debut in the 200m butterfly with a personal best result and a bronze medal.
Sun built up his lead since 100m of the long distance event, winning in 14 minutes 54.52 seconds, 32 seconds away from his own world record. Wang Kecheng of Hunan came second in 15:18.76 and Yang Jintong from Tianjin, who won a gold in the World Youth Open Water Championships, was third in 15:22.61.
"Since there is no close competition within the event, I swam very relaxed and smooth. I don't feel tired at all," revealed Sun, who will also compete in 100m, 200m and 400m freestyles in the meet.
"I have too few competitions this year, so I want to take this meet as a high-quality training session. I want to swim all my favorite freestyle events and see how is my form after the Incheon Asian Games," Sun said.
In the women's 200m butterfly, two-time Olympic champion Ye Shiwen showed her consideration to improve her weakest stroke, finishing third 2:09.39. Li Shuang from Henan took the victory in 2:08.24 and Zhou Yilin of Hebei was second at 2:08.58.
"I didn't train very often after I came back from the Asian Games. I thought I could swim to 2:08 but I felt my hands empty in the water. However, it is my personal-best since I never competed in this event before," Ye said.
Qiu Yuhan from Liaoning stunned her Youth Olympic Games multi-titlist Shen Duo in the women's 100m freestyle by clocking 54.40. Shen had to concede to a silver in 54.46. Zhu Menghui and backstroke world champion Fu Yuanhui from Zhejiang came third and fourth, 54.75 and 55.20, respectively.
Liu Yaxin from Zhejiang took the crown in women's 200m backstroke in 2:10.51; Asian Games champion Shi Jinglin claimed victory in women's 50m breaststroke in 31.39; Wang Lizhuo of Chinese Navy finished atop in men's 100m breaststroke in 1:02.06; Yang Zhixian of Hunan won the men's 200m individual medley in 1:59.08, Zhejiang team ruled the men's 4X200m freestyle relay in 7:17.25.
There are 376 swimmers from 26 teams to compete in the 5-day national championships.