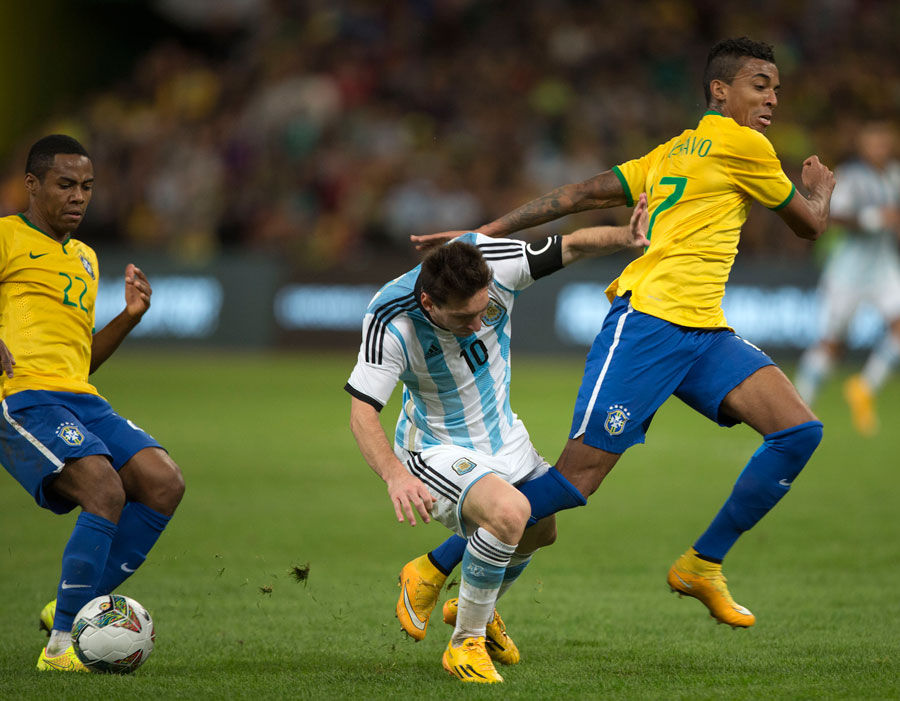 Lionel Messi (C) of Argentina fights the ball with Luiz Gustavo (R) and Trindade Elias (L) of Brazil in an international friendly at the National Stadium, or the Bird's Nest, in Beijing on Oct 11, 2014. Brazil beats its archrival 2-0. [Photo/Xinhua] 
Boasting a heavyweight clash between Brazil and Argentina, the 2014 Americas' Superclasico held in Beijing has ignited sensational soccer zeal in the Chinese capital while cementing Latin American soccer's popularity in China.
Had it not been for the courtside billboards in Chinese, it would have appeared as though the Superclasico at Beijing's National Stadium on Saturday night was played at the renowned Maracana Stadium in Rio de Janeiro, Brazil.
More than 52,000 boisterous fans attended the game in blue-and-white Argentinean uniforms or yellow Brazil jerseys, chanting the names of stars Lionel Messi and Neymar in rhythm while waving banners and flags for the respective teams. Every time one of their beloved stars got possession of the ball, the crowd would break into thunderous cheers, which never seemed to let up.
The warm welcome, which saw stars like Messi, Neymar and Kaka mobbed by fans taking photos and begging for autographs, highlighted how strongly Latin American soccer appeals to Chinese fans.
The celebrity reception impressed the players in a positive way.
"No, I didn't feel intimidated (by the fans' overenthusiastic reaction) at all," Brazil's star center back David Luiz said after Brazil defeated Argentina 2-0 in the highly-anticipated matchup on Saturday.
"I feel honored to be loved by so many supporters in China and it's really enjoyable to have such high popularity and a warm reception in Asia," Luiz said.
Gerardo Martino, who replaced Alejandro Sabella as head coach of Argentina after the World Cup, echoed Luiz's sentiment, adding that the Chinese fans' enthusiasm made up for their loss in the game.
"I could tell the Chinese fans are crazily supportive of us by the electric atmosphere in the stadium. We can only pay it back by playing an exciting match and hopefully they enjoyed it," said Martino, who coached Spanish club FC Barcelona in 2013.
It was the first time that the Superclasico, a reincarnation of the Copa Roca founded in 1914, was held on foreign soil and the Beijing game marked the famous fixture's 100-year anniversary as well as the 100th official Brazil-Argentina match in history.
"The whole China trip made the historical moment even more special," said Kaka, who came off the bench substituting Neymar amid thunderous applause from the crowd in the second half.
Despite the fact that the friendly match didn't count for anything, it is essentially a way for the South American teams to expand their brand in China while tuning up their rosters for the 2015 Copa America.
Both teams approached the match more seriously than expected as they arrived in Beijing four days before the match and trained outdoors despite heavy smog caused by air pollution.
"It's not simply an exhibition game for us," said Brazilian head coach Dunga. "We take it seriously every time we face Argentina. We prepared well and we played hard with high intensity, out of respect for our rival and our fans."
This was the second time Brazil played in Beijing in a year. They took on Zambia at the Bird's Nest in an friendly international game last October, winning 2-0. This was also the second time Argentina has taken on Brazil in Beijing — they faced each other during the 2008 Olympics, with Argentina running away with a 3-0 victory in the semifinals and eventually winning the gold medal.
Despite the high ticket prices, fans said such a high-level clash was well worth the money.
"You can't afford to miss the once-in-a-life-time opportunity to see two of the best soccer teams in the world playing at your doorstep. As long as I have access to buy a ticket, money is not the issue," said diehard Brazil fan Zheng Cheng, who traveled from Northwest China's Shaanxi province to watch the game.
The official ticket prices for the game ranged from 199 yuan ($34) to 2,999 yuan depending on seats and scalped ticket prices rose to triple face value.
The huge market appeal of the two Latin American powers lured not only fans but also six major sponsors, including mobile phone brand Oppo, shaving razor manufacturer Gillette and BAIC Motor Group, which provided endorsement funds to balance operations and security costs, according to event promoter and marketing partner Beijing Inter Sports Co Ltd.
"As long as we could present a truly high-quality game, the marketing and promoting issues would stand on their own feet. The ticket sales and sponsor acquisition went well this time," said Xia Haifeng, chairman of Inter Sports.
sunxiaochen@chinadaily.com.cn