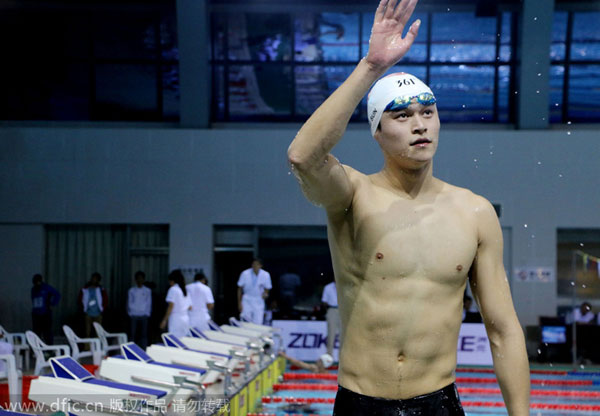 Olympic champion Sun Yang wins his favored 1,500m freestyle event at the Chinese National Swimming Championships, clocking 14 minutes 54.52 seconds, in Huangshan, Anhui province, Oct 14, 2014. [Photo/IC]
Olympic swimming star Sun Yang could face additional sanctions after escaping with a lenient ban from the China Anti-Doping Agency following a failed dope test, West China Metropolis Daily reported.
Sun was banned for just three months after testing positive for the banned stimulant trimetazidine during the national championships in May and the International swimming federation (FINA) and World Anti-Doping Agency (WADA) are considering further punishment.
WADA spokesman Ben Nichols said the agency has not yet received the full facts of Sun's failed test on May 17 but may appeal to the Court of Arbitration for Sport demanding additional punishment if they believe his short and lenient ban and the Chinese body's delayed announcement to be inappropriate.
Others failing dope tests have faced bans of up to two years, according to FINA's official website.