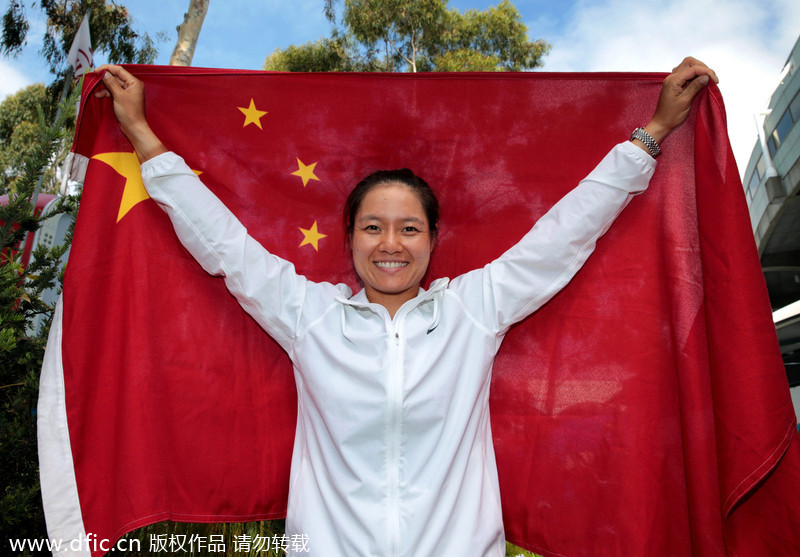 Li Na poses with a Chinese flag at the Australian Open tennis championship in Melbourne, Australia, Jan 24, 2014. [Photo/icpress.cn]
MELBOURNE - Li Na of China, the fourth seed, will play 20th seed Dominika Cibulkova of Slovakia in Saturday's women's singles final.
This will be Li's third Australian Open final in the last four years and also the best chance for the 2011 French Open champion to life the Daphne Akhurst Memorial Cup and her second major.
Li reached the final at Melbourne Park in 2011 and 2013 but was denied twice.
In 2011, she led 1-0 against Kim Clijsters in her first Grand Slam final, only to crumble later on.
"I didn't have any experience when I came to the final for the first time. I just felt so excited. So when the problem occured, I can't face them because nobody can help me," said Li on Thursday after her semifinal win over Canadian Eugenie Bouchard.
A year ago against Victoria Azarenka, Li fell, twisting her ankle and hitting her head so hard on the court that she suffered concussion.
"At least I will try not to fall down this time. Because I think I played well last year but I can only say bad luck because I fell down twice," said Li. "At least I will try to enjoy and stay healthy."
But since Margaret Smith Court won in 1973, no woman over the age of 30 claimed an Australian Open crown.
The list of those to have tried and failed includes some greatest players of the past century, such as Martina Navratilova, Chris Evert, and Li herself.
But there is also good news for Li as she has beaten Cibulkova in each of their four meetings.
Li Na's route to final: