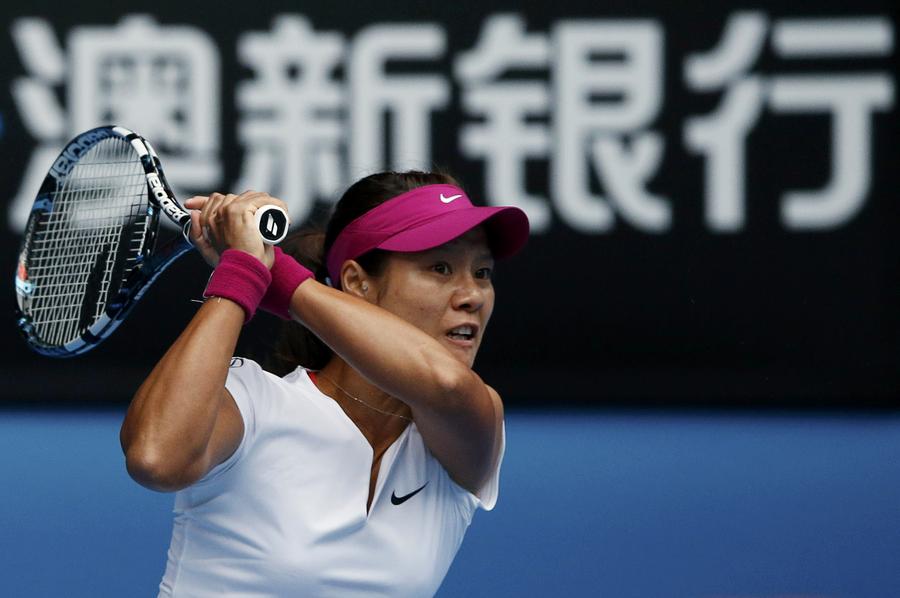 Li Na of China hits a return to Flavia Pennetta of Italy during their women's quarter-final tennis match at the Australian Open 2014 tennis tournament in Melbourne January 21, 2014.  [Photo/Agencies]
MELBOURNE, Jan. 21 (Xinhua) -- Two-time runner-up and fourth seed Li Na of China beat Italian Flavia Pennetta with an impressive 6-2, 6-2 victory in Tuesday's quarterfinals at the Australian Open.

Li was rarely troubled in the one-sided match, completely outclassing her opponent in 67 minutes to reach the final four of the Australian Open after last year's final loss to Victoria Azarenka.

Li, the fourth seed, broke Pannetta in the first game of the match, following up with two more to lead the first set 5-0. The Italian, who stunned No.9 seed Angelique Kerber in the fourth round, broke back in the sixth game but Li still managed to take the set 6-2.

Then Li took 32 minutes to win the one-sided second set 6-2 by breaking Pennetta another two times.

"I know Penneta was a tough player because I played her four times before. Every time was like tough," said Li. "I don't know what happened today. Maybe because I try to prepare for the match before I come to the court."

"It was really tough today because I didn't serve well. My serve didn't work the way I would like to," said Pennetta. "I think Li made no mistake at all. I was trying to push, but she was faster and stronger than me today. I tried my best, but she was good."

Li and Pennatte, who is one day elder than the Chinese, tied 2-2 in their previous four meetings. Pennetta defeated Li 6-2, 7-6 (7-4) in their last meeting in Sydney in 2010.

"In the last year Li improved her game a lot and she's more consistent with her forehand. Her serve is working really good also. She'e one of the best players and today she's much better than me in the court," said Pennetta. "I think she is perfect in everything today. I didn't have chance at all."
Li Na's way to semis