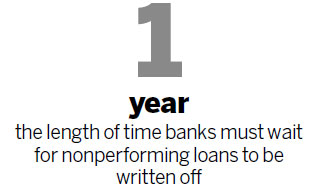 China has relaxed rules for banks to write off bad loans as Beijing rolls out yet another measure for lenders to unload bad assets in preparation for stronger competition to be brought about by interest rate liberalization.
Starting this month, lenders will enjoy greater autonomy in writing off certain small loans that have damaged their balance sheets. Before, the lenders had to seek regulatory permission before they could do so.
The new rules were announced after China Cinda Asset Management Co, one of the big four State-owned bad loan managers set up in 1999 to absorb toxic assets held by China's four biggest banks, raised funds last year through an initial public offering in Hong Kong. It's widely interpreted as a move to shore up lenders. The remaining three bad debt managers are to follow suit.
Last year, a trial was expanded that allows the sale of bonds backed by bank loans, including bad ones. The bonds were also for the first time allowed to trade on stock exchanges although Beijing did not elaborate on the timing and scale by which the trial will be expanded.
All these measures offer a path for banks to unload bad assets, which are expected to rise as Beijing proceeds with reform that throws the power to price funds straight into the market.
The new loan write-off rules were posted on Wednesday on the website of the Jiangsu provincial financial bureau, although they were issued by the Ministry of Finance. The rules are applicable nationwide. The post didn't say when exactly the rules were issued, but they have been effective since Jan 1. Calls to the Ministry of Finance went unanswered on Wednesday.
Under the new write-off rules, lenders still have to prove to regulators that they have done their best to recover the funds but are given greater autonomy to write off private business loans of less than 5 million yuan (about $826,000) after they have tried to recover the money for at least one year.
Loans to small enterprises and to the agricultural sector of up to 10 million yuan can be taken off the books after one year, up from 5 million yuan previously. Banks can also write off sour loans if they haven't been recovered two years after borrowers declared bankruptcy. Before, the banks had to wait three years.
In its latest step, the People's Bank of China, the central bank, launched a system for a loan prime rate in October last year that will be used as a new benchmark for lending rates gradually. The system is similar to the indicative rate of interest at which banks lend to favored customers. Nine banks were selected to submit the lending rate they charge their best clients. China's inter-bank funding center will calculate a weighted average rate based on the submissions.
The liberalization of deposit rates is expected to generate the biggest effect on the market because it threatens to raise costs for banks. The central bank has yet to remove the deposit rate ceiling, but Beijing has promised that policies will be in place by 2020.
PBOC Governor Zhou Xiaochuan has said that deposit rates will likely rise after the ceiling is removed and the central bank won't provide shelter for lenders that fail to survive the competition.
The bad loan ratio of Chinese banks was 0.97 percent at the end of the third quarter last year, up from 0.9 percent at the end of the third quarter in 2012, according to data from the China Banking Regulatory Commission.
The level is low by international standards, but many economists believe Chinese lenders have devised ways to cover up sour loans.