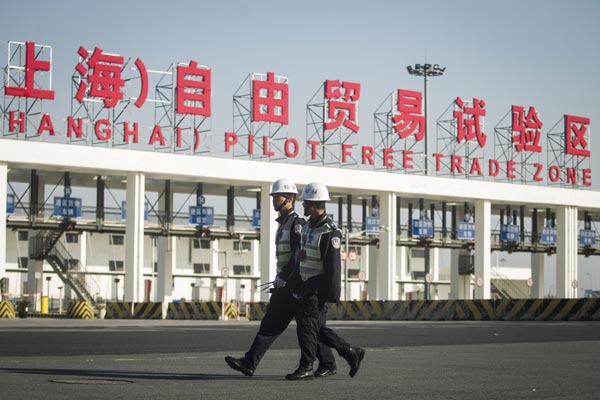 Customs officers walk near a checkpoint at the China (Shanghai) Pilot Free Trade Zone. Provided to China Daily
System regarding antitrust and safety probes to strengthen supervision of foreign investments
Authorities are working on a mechanism for antitrust and safety probes in the China (Shanghai) Pilot Free Trade Zone, a senior government official for the zone said Tuesday.
Such a move is meant to strengthen supervision of foreign investments in an area that grants quite a bit of freedom to investors at the entry stage, experts said.
Ai Baojun, vice-mayor of Shanghai and head of the FTZ's management committee, told local legislators that the mechanism will be ready by the end of the first quarter this year. "We have reached a basic agreement with relative ministries it will be an operating system built on existing rules," he said.
China's antitrust inspections of foreign investors are mainly handled by the Ministry of Commerce, and safety inspections are conducted by a joint conference led by the Ministry of Commerce and the National Development and Reform Commission.
Adhering to international standards, antitrust inspections are a transparent process, but safety inspection will be less so, according to Ai.
The FTZ's inspection mechanism will gather information from multiple sources to achieve mutual corroboration, and will solicit external expertise from accountants and lawyers, he said.
Yang Ning, an antitrust lawyer with HaoLiWen Partners, a Shanghai-based law firm, said the inspection mechanism for the FTZ would not be that different from existing rules.
However, as the list of sectors requiring advance approval is expected to diminish over time, the inspection mechanism will have to step in to check whether new investment falls into a category involving antitrust or safety issues.
"Overall, FTZ authorities may adopt a stricter standard in antitrust inspection, aiming to increase in-progress supervision as it has lowered the threshold for entry," Yang said.
He said many circumstances, such as tender offers and joint ventures, may qualify for antitrust inspections, and investment in shipping, energy, agriculture and machinery sectors may involve safety issues. Therefore, it's best for investors to file declarations in advance, not only to the Ministry of Commerce but the safety inspection joint conference as well, Yang said.