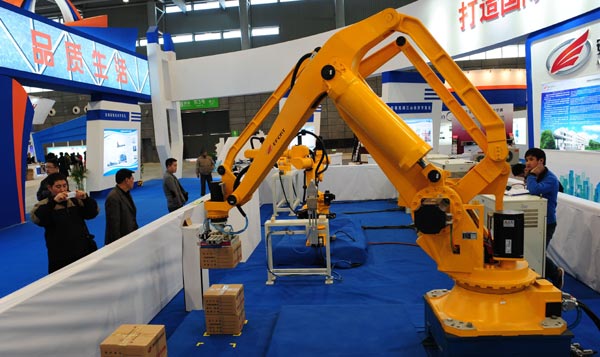 An international industrial robotics exhibition in Hefei, Anhui province. China now ranks as the globe's sixth-largest market in terms of robot installation. Provided to China Daily
CEO eyes automation as key to increased wealth creation for all
A twin degree in law and business helped Till Reuter secure jobs in leading investment banks and law firms over the decades. But to oversee a robotics company, Reuter needs to have a unique winning formula.
As chief executive officer of KUKA AG Corp, Reuter identified the one legacy that previous experiences afforded him: a sensitivity to numbers.
"I don't forget numbers. Once I hear them, I memorize them immediately and they just stay there forever," Reuter chuckled while he walked around KUKA's brand new plant in Shanghai.
So when he addressed the opening ceremony on Dec 10, he prepared no speech. The fact that this 20,000 square meter assembly line, set to produce 3,000 units in the first year and expected to grow to 5,000 units in five years, was engraved on his mind.
"It's amazing when we laid the cornerstone from the sketch only a year ago. Now what you are seeing is the only factory outside KUKA's home country, Germany," Reuter said.
KUKA's Shanghai-based China operation has been in the country for 14 years, at a time when people touted China's inexhaustible human resources and the concept of robot workers failed to catch on.
But a change in demographics has helped to open a window of opportunity. China's working-age population is set to shrink and labor costs are likely to spiral upward as a result. That has given a fresh impetus to the development of the robotics sector.
Reuter sensed the trend even on his first visit to China 15 years ago. He had a tightly packed business schedule and mainly saw Beijing from hotel windows.
"Each time I came, the views out there had overwhelmingly changed," Reuter recalled, referring to the massive construction going on which, at the end of the day, needed to be supported by more automation solutions.
Research conducted by the consultancy Ernst & Young LLP showed similar considerations. Average labor costs have more than doubled since the beginning of 2007. The average annual labor cost per worker rose to more than 40,000 yuan ($6,400) in 2011, from less than 25,000 yuan five years ago.
Given the context, it's easy to calculate the tradeoffs of getting a robot. "In fact, industrial robots are already cheaper than workers in China's eastern regions," said Wang Tianmiao, who heads the expert panel of robot technology under the State High-Tech Development Plan.