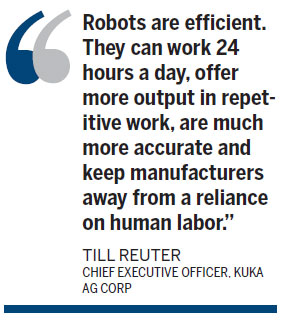 Fierce competition
China now ranks as the globe's sixth-largest market in terms of robot installation. The International Federation of Robotics predicts the country will overtake Japan as the top user of industrial robots by 2014,with demand reaching 32,000 units.
The Chinese government supports the development of robots. The 12th Five-Year Plan (2011-15) outlined a plan for overall revenue in the intelligent equipment sector to exceed 1 trillion yuan by 2015, an annual compound growth rate of 25 percent.
The ambitious target also includes 30 percent of intelligent equipment with homegrown technologies. It further set out to localize production of robotics and relevant electrical machinery by the end of the plan.
Like KUKA, many industry giants are looking to capitalize on the robotics boom.
Swiss firm ABB AG established its first global quality center in Shanghai in early 2012.
Staubli Holding AG has invested 200 million yuan in expanding its manufacturing facility in Hangzhou, Zhejiang province. It also plans to build an industrial robot assembly production line.
Reuter identified two key elements to determine the quality of robots: on the one side applications and software and, on the other, people.
The repeatable accuracy of a KUKA manipulator, which means the measurement of the variation in the actual position of a robot manipulator from one cycle to the next, can be as little as 0.01millimeter, depending on customer needs.
This contrasts with a typical Chinese robot that operates around a 1 mm dimension, said Sun Zhiqiang, managing director of Risong Group, an automation company in Guangzhou, Guangdong province.
But Reuter still keeps an eye on the development of Chinese robot makers.
"They are catching up fast so we are closely watching them. A real differentiator is people, so we need to stay ahead of the curve by recruiting the best talent," he said.
In consequence, KUKA sends its employees for up to three months of training at its German headquarters so that they are able to master the necessary skills.
Reuter picked up his managerial talent from his family business, run by his parents. He helped make business decisions when he was young.
"We want to make sure that KUKA China is a Chinese company," he said.